APCO News 2012
May 2012: LIFT :: New Paramotor wing
LIFT (nicknamed "Baby Force") Conceived from Force, as a direct result of pilot demand and a worthy addition to our classic paramotor wing range.
It is not a tuned down version of Force, but all in all a new wing, purpose built and designed to specific needs of wide range of pilots, targeting anyone who would like to fly easy rock solid reflex wing with excellent performance and speed..
for more:
click here

April 2012: LIFT 450 PPC wing
APCO is proud to make a bold claim - history in the making. We are launching the all new LIFT 450 PPC wing. Reflex profile based, revolutionary concept - to make all past generation PPC wings obsolete.
Do not be misled by the elliptical shape and high performance of the wing - the LIFT 450 is not just a high performance wing aimed at ace pilots, it is a wing to replace the majority of today's rectangular PPC wings. The safety and pilot friendly behavior of LIFT450 are on a par with any basic PPC wing you have ever known.
for more:
click here

April 2012: NEW :: Guided Mayday SLT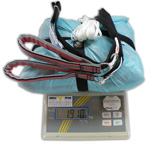 G-MD SLT is the new born superlight brother of our well known and respected G-MD. The G-MD SLT shares the same performance of G-MD SLT, but is much lighter (less than 2 kg.) and smaller pack volume.
G-MD SLT - fully certified to EN requirements. The G-MD SLT offers super fast, yet still soft deployment, making sure you land safely, unshocked while safly steering to a landing field chosen by you. The deployment sequence of G-MD SLT is designed to function with or without a cut-off system for the main wing, making it attractive to weekend pilots thanks to the simplicity of use, combined with the advantages of a steerable guiding rescue.
for more:
click here

January 2012: Vista II Sport - GLIDER OF THE YEAR!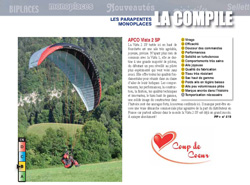 "The Vista SP is on the tip of the fork a fun and precise wing which is suitable to pilots from beginners to experienced XC pilots"
"The Vista SP II is already a great success worldwide and is definitely worth a try" .
for more:
click here

November 2011: Vista SP Certification complete!
We are happy to announce that our Vista SP EN.B 3-liner glider has successfully completed the certification.
Sizes Small Medium and Large have been confirmed by Air Turquoise laboratory.
for more:
click here

November 2011: Guided Mayday Folding and packing Video
Apco's Guided Mayday - steerable emergency parachute - has been a great success for a few years now.
Following many requests, we now have an online video aiding repacking sequence which might be helpful -for the video,
click here
Please remember video is intended only for pilots familiar with folding process and folding the chute should be under professional supervision of certified parachute rigger.
for more:
click here

November 2011: World Media News & Reviews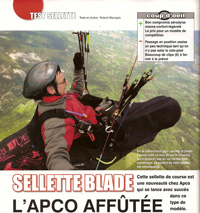 Professional media worldwide has been asking for more and more product to review - all of them are receiving high praise.
The German Paramotor Magazine issue 2/11 featured Force and had only only good things to say about it - for full review
click here.
The leading Japanese paragliding magazine - Paraworld - also featured Force -
click here for article
French Magazine Parapente+ checked our latest Blade full pod harness. Roland Wacogne liked it very much - full article
click here
Michel Ferrer visited Israel and APCO premises this Spring and had a chance to check out the facility first hand -
read what he has to say...
Noel Bertrand (French journalist and well known pilot) checked out Vista II SP - we were informed that he was excited by the wing - the evaluation article will be printed soon - will be uploaded to our facebook page when available.
Finally, Israel 21 - Israeli independent TV channel featured APCO last month -
see a short clip of their impressions
for more:
click here