Pilot's Comments

This section contains a series of letters we received from paragliding pilots using our products. If you wish to let us know what you think about one of our products please E-mail us »

Cruiser

Sent: Monday, July 10, 2017 6:32 PM
To: apco@apcoaviation.com
Subject: [APCO Website] Comment
Client's contact details:Name:Steve Country: usa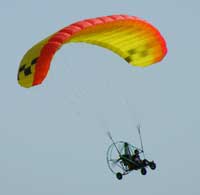 I just started flying your 550 Cruiser and I love it.
I lost about 20 FPM climb rate from my Thunder Bolt 340 but way better climb than a Rectangle chute.
But I gained a whole bunch of confidence in take off and landing.
I felt unsafe with the Thunder Bolt.
I have never seen a chute that comes up that fast and perfect.
I am flying 34 MPH with this chute and the Thunder Bolt flew at 39 MPH.
I like the slower speed on take off and landing on rough runways.
Thank You taking the time to make a better chute.
Karisma

From: Keith MacCullough
Sent: Tue, Nov 22, 2016 at 8:55 PM
To: apco office
SubjectKarisma

Dear Sally
What a great all round first Paraglider.
I had a great Ridge Soaring Session with the Karisma and had no problem soaring with many much higher performance gliders with No sensation that I was disadvantaged.
The handling is very direct with a nice feeling through the brakes. It was super easy to top land in a tight spot with so much Brake travel at its disposal. As for Ground Handling I don't think you could find a glider any easier.
With a simple lift of the A's it gradually comes off the ground and stops perfectly over head with little to no tendency to over shoot the pilot. Once over head you can simply adjust direction using the C Risers with a light touch or if you prefer the brakes it was also quite intuitive.

Thanks APCO for outdoing your selves yet again with this perfect tool for the Starting Paraglider pilot and also making it a fun glider for us Instructors.
Also love the new colors and logo design.
Cheers
Keith

From Mathieu Arlettaz
Sent: Monday, January 16, 2017 2:54 PM
To: Apco Aviation Office
Subject: Karisima

Hello,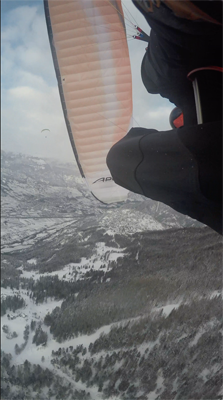 I've received the order last friday. The shipment was really fast (less then 48 hours after you posted it in Israel !), and I thank you for the shipment.
I've tried the wing yesterday in a really very cold winter day.
The wing is so lighter to inflate and inflated so well either in a light wind. Then, it wait the pilot over the head, without collapsing. It's really easy to take of.
In flight, it's nice and flies really well. There was no real thermal but the various was indicating I was sometimes climbing a little bit.
The brake lines are a little bit long but when you do one turn around your hand it's reacting very well and progressively. I've tied doing some collapses but it's really opening very easily and fast, either while doing front collapse. But, another really appreciated point, while doing the ears, it stays collapsed as long as the flight is straight. I've also tried the speed system, we feel that the wing has a huge speed range, feeling that it's flying really fast with the speed system for a EN-A wing ! I've also tried the minimal speed and the remotes become really hard, excluding any risk of stalling by mistake. Wings-over are much harder then on the Karma Evo because the wing is also a little bit smoother then the old model.
In approche, it turns well flat without diving, making approach really easy. The landing is really smooth, and the flight can be really slow, making the eggs-landing possible.
So the wing is really fly nicely and properly, the best for a student. But it's quite too easy to fly ! ;-)
It seams to be one step lower the Karma Evo in term of nervosité and possibility to progress in "freestyle", but it gives a huge safety in flight and is really the best for this kind of wing.
Thank you very much for your work while designing and building this wing. The white bottom surface color gives the image of a smoother wing because colors look more smooth too ! But the top surface design is so nice !
For the rescue, I hope I'll not have to check it soon ! But the MD bag is nice.
Thank you also for the numbers and for the speed bars !
Thank you very much ! All the best !
Mathieu

Force II

Sent: Wednesday, July 12, 2017 6:36 AM
To: apco@apcoaviation.com
Subject: Force II Comment
From: Yanis - brazil
Hey! I just bought an apco (force 2) and I'm loving it, you really have products of great quality and credibility.
I confess that I was afraid to buy the wing, after accessing the company's website, because it is an outdated site that does not work on all interfaces.
You have great products and a strong name in the market.
You could improve the site, because it is the face of the online company.
Greatings form Brazil!
And tanx for the excellent product!

From
: Per, Sweden
Sent
: Saturday, October 08, 2016
To
: apco office
Subject
: Force 2
Hi,
I have bought the APCO Force 2 and I think it is best ever PM glider I flown.
Great product and fun to fly.
Best regards,
Per Hellsten
Sweden

From: Robert Ford, UK
Sent: 04 October 2016 19:51
Subject: Force 2

Hi Paul,

Here's some positive feedback.
I've had about 8 hours on the wing so far and these are the main things I've noticed:
Take offs are still really easy. Similar in feel to the lift EZ, the wing is easy to control when doing either a forward or reverse launch and I'm usually airborne after a few steps and a steady pull on the brakes in all but nil wind conditions.
Once in the air it's stable and being able to use brakes or wing tip steering from one handle is really useful. It's far more stable than I thought it would be for a smaller, faster wing. I find the speed is much higher than my EZ, giving average speeds of around 28mph on out and back flights.
I haven't had chance to work out miles per litre or minutes per litre but I can say I haven't noticed any major increase in fuel consumption. This, combined with the higher speeds means that long distance XC's are no problem at all.
If you haven't guessed already,I'm really pleased with the wing and pleased I took your advice.
It is like a more manoeuvrable, faster version of a Lift EZ and a really worthwhile step up for a new wing.

Regards,
Rob

From:Danny Hubbard, England,
Date:May 2016
Subject: Force 2

Slow take-off and landing speed makes take off and landing easier.
Compared to the Force SP, the Force II has a higher top speed. ABS system works good. The Force II is stable and does not have a tendency to roll. Speed bar works well.
It's a good cross-country wing.

From: Trond Nyman Aarre
Date: Mon, May 2, 2016 at 4:42 PM
Subject: Force II
To: Apco Office

In regards to the Force II:
I totally love my Apco Force II.
The classic Force is still a great wing and was my favourite wing until I tried the Force II.
The Force II is just so much better in every way. It's extremely efficient, fast but also slow when I want to go low and slow, very stabile at speed, surprisingly agile and incredibly compact.
Also the color combinations are outstanding.
The ICE looks more or less as the Northern Lights (Aurora) up North of Norway.

This is simply the best wing I've ever tested.
Totally impressed!
Not need to look further.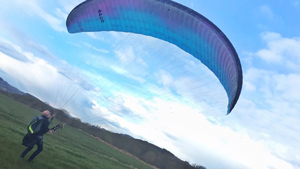 Best regards,
Trond

Game 42

From
: RICHARD thompson
To
: Apco Office
Date
: 17 Sep 2016, at 22:25
Subject
: Game 42
Hi Paul,

I am on the instructors course in Portugal and used the game 42 in thermals in France and on the course.
Absolutely brilliant glider.
Today everyone went down but we managed to get 120' above take off and do a fly through of the launch site.
Rate of sink best I have ever flown on a tandem . Turns in to a thermal so nicely Flat or will tighten up.
Wonderful.
Please convey my appreciation of the Glider to Apco It's still a sod to launch in strong winds . But at least I don't have to now!!!

Richard

From: Alain WILSON
To: Apco Office
Date: Monday, June 06, 2016 8:31 AM
Subject: Game 42 Photo from French PILOT

Hello APCO,

Please look some picture with your GAME 42 and a short video of take-off with my son Theodore Youtube : https://youtu.be/HMFNw2HyZ5E
I want to thank you for making this wing, it is the best tandem I have ever flown and I could not be happier! Take-off and landing is easier than anything I had and brake pressure is same as my private LIFT PPG wing
Congratulations!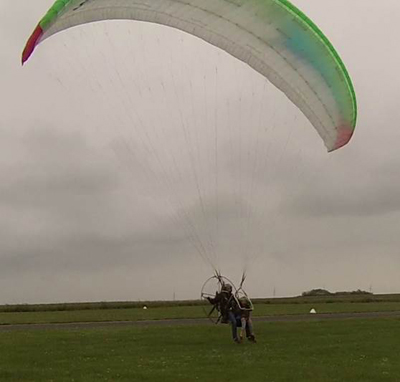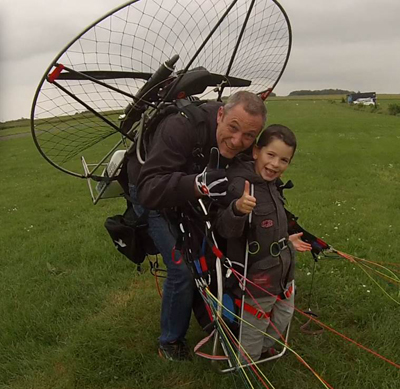 From: Mauricio Villagran
To: Apco Office
Date: Mar 3, 2016 2:27 PM
Subject: Game 42

The game 42

It is a paraglider of the best I 've flown .
It really is a marvel of modern technology.
It is like flying a rigid wing .
it is easier to fly than a single-seater glider

Zefira

From: Weiss, Mark
To: Apco Aviation
Date: Thu, Apr 7, 2016 4:11 PM
Subject: Zefira in Ahornach Southtirol

Hello,
The grey bird went to Southtirol!
It was a very nice feeling, even in the thermal. He will take the lift up easily, and is accurate to turn/curve.
The landing is packed with fun. Easy to flare with speed parallel to the ground and stop at the point.

After two take offs it was even easy to launch the wing without a rosette.

Best regards,
Mark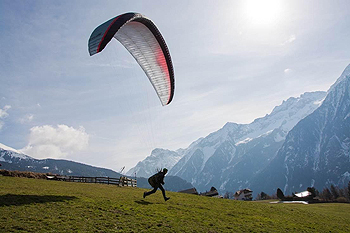 NRG Pro

From
: paul kiburn
To
: APCO AVIATION
Sent
: Wednesday, November 12, 2014 12:58 AM
Subject
: NRG PRO
Hi Anatoly and Adam.

The NRG Pro Turned out to be a great little wing and i loved flying it at the weekend, the attention to detail was a big improvement and i hope to see this across the whole of Apco's range of wings. After what people were saying about it i was a little nervous of the first flight but it turned out to be much better than my Snake, smoother and no twitching around as we say, yes very stable in flight, lift off really short, much less run than the GTX and more economical off the bar, tip turning was so much fun and it folds up smaller than my pillow. FANTASTIC !

The future is looking great, well done Adam and the team at Apco.

Paul Kilburn
Manchester Paragliders

Lift

From: Filipe Vilaca
To: Apco Aviation LTD
Sent: Tuesday, November 26, 2013 1:07 AM
Subject: LIFT S Brasiliera feedback
Dear Anatoly, Sally and all APCO team,
I would like to express my happiness about the LIFT wing purchase. The shipment was fast and smooth, I received my LIFT S Brasiliera last week and was able to test it after two days. I did some flight tests with windy and a little turbulence conditions and the first impressions were positive.
The ground handling is incredible, the LIFT was very easy to inflate and control, as well as taking off and landing, the best wing that I have tried. Also, it was very stable in flying even with trimmers off, giving a great comfort and safety sensation. I'm very happy with this wing it's what I expected to own, a wing that combines performance with safety.
Thank you APCO, for this wonderful wing, and keep up the great work.
Best regards,
Filipe Vilaca

Lift PPC
From: Angelo Chirico, USA
To: Apco Aviation LTD
Sent: Thursday, October 06, 2016
Subject: LIFT 450
Dear Apco,
This is my 2nd Lift 450 and I love fling this wing!
It is so much better that the square chute and if I didn't have a 450, I'd probably give up flying!
Thank you.
Sincerely
Angelo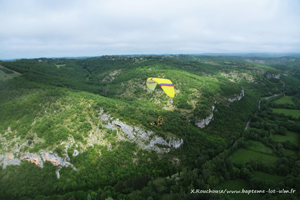 From
: Xavier ROUCHOUSE
To
: Apco Aviation LTD
Sent
: Sunday, May 22, 2016 1:20 PM
Subject
: LIFT PPC
My feedback after firts test in flight :

First flight with wing Apco Lift 400 PPC ...
I found the sensations of my PPG elliptic wing foot take off ... It's very different from the rectangular wing Elan 500 I usually use my carriage Skydancer 582.
Flight conditions, low ceiling with clouds between 200 and 300 meters above ground, little or no wind, but marked activity under the clouds ... Two flights 15 mn and 30 mn
Comparing with the Elan wing, Lift inflates with less engine, it is set up very well, it feels light on, she wants to fly!
The engine is less stressed whatever the configuration of the flight, less noise, less wear, less consumption ....
Orders without light are still softer than rectangular. She is playful without being too aggressive.
is not centrifuge we do turn if we have not decided to do it ...
As against it is sensitive to pitch compared to the rectangular sail, so less comfortable in flight.
The set is quite beautiful in flight, the colors are good and are appreciated by those present. By cons I would have liked to facilitate the visit before the flight, have lines suspentage before different colored lines suspentage back, but that's a detail.

In summary, it is quite easy with some experience on this type of wing, it seems pretty neutral, "player" and cleaning the engine.
As against less well for comfort ... More in future flights as soon as we have good weather here.

Thank you
Best regards
Xavier

Lift EZ
From:
Garry Bush
Sent:
Friday, April 15, 2016 9:55 PM
To:
apco office
Subject:
Feedback Lift EZ
Dear Apco Company,
I am flying with Apco Lift EZ glide , I must say this it is a very stable glide.
thank you Apco :)
Gadi Cohen


From:
Trond Nyman Aarre
Sent:
Sat, Jan 28, 2017 at 11:15 PM
To:
Apco Aviation Office
Subject:
New order, Apco Lift EZ, Small, Zest +
Dear Sally
I must say the Apco Lift EZ is an absolutely incredible wing. Even very experienced paragliding pilots choose the Lift EZ over other wings after their paramotor education is completed.
Best regards,
Trond
--
Trond Nyman Aarre
Owner and Chief Instructor
Soul Pilots AS
Gamle Prestveien 38 B, 4025 Stavanger
NORWAY

Lift EU

From: Lionel, South Africa
Sent: Monday, October 24, 2016 2:11 PM
To: Apco Office
Subject: Lift EU400

Hi there Apco
Thank you for manufacturing an outstanding wing. Due to the whether I had the opportunity to fly my new Lift EU 400 on Saturday morning.
What a pleasure.
Not what I expected. The wing came up with no surprises at all. Just sit there waiting for the next command.
In flight the wing is responsive with the best glide ratio. Landing the trike was really very easy with minimal input.
The wing was really worth the wait.
All I can say is good luck improving on this wing.
Many thanks
Lionel Schlebusch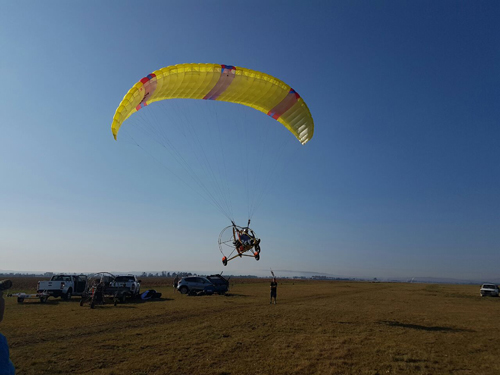 From: Walter Wojciechowski
Sent: Monday, April 11, 2016 10:20 AM
To: Apco Office
Subject: LIFT EU 450 Feedback

Dear Jonathan,

Please, find attached a translated mail of another client and his conclusion cocerning LIFT EU 450. I tried to be as precise as possible. I hope you will understand it.
"Hi Walter,
First off all I would like to thank you for sending me the wing for test. I know you have been lending the wings for test for a long time but I come cross it for the first time and I feel very pleasantly surprised.
I have finished three testing days of Apco Lift 450. I tested the wing together with my friend Zbyszek and here is our feetback. Off course, these are our subjective feelings but you may use it in your future work.

Unpacking the wing. The wing was packed prefectly-brand new :) We were the first two pilots to fly it. The color option: blue as we wanted from the Apco's website.
First Flights (1 person): With a trike, alone, using A assistant. The wings goes above the head excellent and equally. It flies very easily and take you from the ground just like that. Using the big brake handles, it make the turns in ease, but changing them to small brakes and using small brakes gives you a huge dose of joy and happiness. Hand speed is a good idea, but I did not feel much difference while using it. It is quite hard to pull the speed. Landing is a excellent, predictible and very easy.
We were very happy with the wing after the tests (flying alone with no passanger).
Finishing test (pilot and passanger): The trike 120kg + pilot 100kg + passanger (pilot:) 80kg +fuel+rescue+and the rest is about 20kg. Totally it is about 320-330kg take-off weigth. Launch- very smooth, and running start is just a little longer that start (1 pilot). Turning- here comes our problem. The wing becomes harder on the big brake handles. When changes them to small handles, it helps but still a bit heavy.
Conclusions:

PROS:
- perfect launch
- great performance while flying alone
- excellent landing
- very well made backpack (I had Ti-Fighter Indepedence earlier and they do not add backpacks to trike tandems. It is extra charged)

CONS:
- very poor color options
- it is impossible to put the logo on the wing because of the excessive design (big stripes acros the wing)"
Best regards,
Walter/Magda

Force

I kept my previous wing which is only a year old while I was getting to know the Force, but have now decided there is no going back to the older wing and am fully committing to the Force now and selling off my 12 month old wing.
Keith Pickersgill
South Africa


One of the demo Force wings was used at a demo weekend with UKPPG and pilots were impressed how well it flew and how much faster it flew compared to the Dudek Plasma - the positive feedback continues
I have flown most of the main wings available I would choose the Apco Force for paramotoring even if I was not the Apco UK representative.
Paul Haxby
U.K.


I received the new APCO Force gliders on Monday and was able to test fly the Medium yesterday. My long time girlfriend Dawn test flew the Small size. Both of us were really happy with the performance of the gliders. We took off in light wind conditions and the launch didn't take much effort. In the air the glider felt nice and the wing tip steering requires very little pressure and is very effective. The speed at full trim out was excellent and what performance it did have was beyond expectations.
Thank you for your excellent work, you have come up with a very nice glider.
Francesco De Santis
USA


Let me start by describing the FORCE as quite a formidable wing in flight.
FAST
Snappy (on tip brakes)
SOLID
Stable
VF FAST!
Pull up - easy, quick and direct
It does not nose tuck or collapse - it just flies past you and sits there waiting for line tension....
Once airborne - what a pleasure!
In all, very impressive and a machine to be understood.
A flight that would ordinarily taken me closer to 1 hour on my FreeX Moon + Xplorer4 around the same points and climbs I did on Sunday with the Force/PAP combo only taking 25 minutes!
Ant Allen
APCO Force (S)
South Africa


we try the Force S, very interesting, very easy to inflate, need to run to take off but without excess speed.
little hard hangling but efficient, very stable and efficient in speed with trims off and good maniability with the tip steerings.
high speed in landing but with possibility to stop it with a flair and large breaking so, i think you do a very good glider regarding the reflex activitie
Jose Ortega France



From: Tomas Peterson
"its simply the best wing ever flown and available to pilots. We will take the market with it by storm"


From: Aloyzas
To: Apco Office
Sent: Sunday, May 02, 2010 8:45 PM
Subject: Force

Monday I flew Force in high winds 6-9 m/s...
When all trims are open and speed is engaged turbulence disappearing and you feel like riding a gravel road.
Yesterday I flew in still conditions.- Launch unbelievably easy not like with other reflex wings, launch is effortless like all APCO wings. In flight, speed when trimmers closed around 40-42 km/h, trims open no speedbar in 54-57km/h, trims on speed on 68-72 km/h. Amazing thing is when trims open and speed on flying almost full throttle - no torque effect to the right doesn't require to make a trim corrections for torque - Amazing!!!. Small toggles is very easy to steer and effective to make a turns toggle handles...
Motor off and soaring, looks like is true that sink is 1,2 m/s.
Best motoring wing I ever tried ! More impressions after more people will try it.
Aloyzas Liaukus

And then a few days later...

From: Aloyzas
To: Apco Office
Sent: Thursday, May 06, 2010 4:28 PM
Subject: Re:Force

Dear Anatoly
One more thing to add to good Force behavior.
We, Otto-Paramotors produce paramotor units with left (JPX) and right (Sky100) propeller rotation. Flying both prop rotation units, with trimmers open and speed bar engaged, Force wing doesn't require torque compensation at all, by trimming trimmers or compensating prop torque influence by steering toggles in flight. In this combination Flight is straight hands can be left free even while motor is running on 80-90% rpm, steering possible by weight shifting- fly and relax!
Weather conditions were Still, best weather to make experiments on torque.

From: Ott Maaten
To: Apco Aviation LTD
Date: Wed, May 5, 2010 at 1:33 PM
Subject: Force
Hi,
Have flown Force in Estonian PPG Championship. Got 5th place… Went to compete without any training and failed one task (from 6) We compared it directly against Reaction. The speed difference is clear and even huge. So it must be also quicker as Nucleon because between Reaction and Nucleon the difference is very small (62 vs 60 km/h)
Didn't feel any risk of collapse...
I asked our champion, Paap Kõlar, to testfly Force. Briefly his comments:
General - very, very nice and safe wing. Much better for freeflying as his own wing Dudek Plasma.
Excellent start - best wing he has ever tried. Nothing to do - all happens itself.
Measured speed with GPS full accelerated - firmly 66 km/h. So the 67+ announced is very relevant.
Good handling...
Verdict:
Very good wing and as launching is so easy it can be used even by debutants.
all the best,
Ott Maaten
Libra


From: Bob Hanah
To: Apco Aviation LTD
Sent: Sunday, May 03, 2009 7:18 AM
Subject: Next Libra
Dear Anatoly and Sally,
Mark Heckler likes his Libra very much.He commented on its easy launch behavior, very nice brake pressure, and the way it centers itself in thermals.
I was able to sell my personal wing, and it is time for me to get a Libra.
Please place an order for a 21300 in #2 yellow.
Best regards,
Bob

From: Swissapco.ch - M. Arlettaz
To: Apco Office
Sent: Tuesday, September 15, 2009 5:09 PM
Subject: Re:

Could you please tell Anatoly and Adam that I fall in love with the Libra ! Really very nice wing !
Thank you very much !
All the best !
Mathieu
Vista HP


From: Ott Maaten
To: Apco Aviation LTD
Sent: Thursday, September 25, 2008 3:00 PM
Subject: Re: New Order Thrust HP Estonia
Dear Anatoly, Adam and APCO team,
We have flown with my collegues yesterday with Vista HP and will continue today.
Yesterday we didnt fly accelerated , today I'll do.
You did ask me not to write long letters but I do have write something.
Yesterday we have flown/interchanged with 3 wings :
Dudek Reaction, APCO Thrust HP, Vista HP
Measures done with Digifly Leonardo (especially looking ground speed and sink rate at the same conditions)
First impressions:
Launch - very good, easy.....Enormously more simple than Reaction launch.
Run and Takeoff - very good, raises the pilot at very slow speed,
Trim speed ie. slow speed - slower than Reaction/Action and Thrust HP, but i liked it a lot - explanation below at the end Trims open - equal to Reaction / Thrust HP , very good speed difference trimmed/untrimmed Steering - requires power but more precise than Thrust HP, wing acts as a "entire block" without "accordeon moving". Quite similar to Reaction. Glide ratio - better than Reaction, noticeably better than Thrust HP.
Combine this glide with low speed possibility - you get a very good combined wing for motor and free flight. Much, much better than Thrust for exemple
best regards,
Ott Maaten


From: Fredrik
To: Apco Aviation LTD
Sent: Sunday, September 07, 2008 1:14 AM
Subject:Testflight of proto Vista HP
Hello.
After one week with heavy rain and windy conditions it finally was a nice evening today and I made a few flights with the proto.
The launch felt good and take off as well to my opinion it felt very much alive, very nice for the pilots who are much into flying experience.....
My personal opinion is that it feels great,.....
I flew with a rocket engine (quite moderate power static thrust 45kg).
Best Regards,
Fredrik


From: Ott Maaten
To: Apco Aviation LTD
Sent: Monday, September 29, 2008 4:58 PM
Subject:Re: New Order Thrust HP Estonia
Hello Anatoly and APCO,
Total 3 my fellow pilots (not beginners) who usually fly with Dudek (Re)Action, have flown Vista HP and all have finished flights with thumbs up.
All liked:
-very easy launching -precise turning
-general stiffness, homogeneity of the wing (not accordeon movings like Thrust)
-good speed trims open
I made couple of flights
- accelerated
- in weak/medium thermals
I liked in addition of above mentioned:
- good flat turning (not surging forward like usual motor wings)
- good difference of speed trims closed/opened
- when accelerated not requiring so much power as Thrust HP, Action
best regards,

Fun 42

From: Cristi Tutunea
To: Apco Office
Sent: Sunday, October 09, 2011 2:13 PM
Subject: impressions of Fun42 MKII

I had time to fly my new glider and I want to tell you it's impressive.
It's the best tandem glider I've flown so far. I didn't get the chance to fly many thermals, but I managed to have an overview. Steering works almost as I am flying a single paraglider. The wing takes off very fast and I managed to make it even when the passenger forgot to run properly. It happened that I made 2 flights crossing a rotor and the glider was very stable. I am very happy that I bought this glider and I'm sure it was the best choice.
Best regards,
Cristi Tutunea


From: "PPI"
To: Apco Aviation LTD
Sent: Friday, July 11, 2008 3:57 AM
Subject: Fun 42
Dear Anatoly What a superb flying machine!
I flew it today for the first time and I think we will have a new one ordered by this week.
It is beautiful, the Tangerine, inflates wonderfully and has the lightest brake I have ever found in any tandem.

I would like to add that, although our take-off distance is quite short here at Pepino, the glider inflates so easely that its impressive long line length does not make any diference in comparison with other tandems.
As a matter of fact, it does better than most of the others.

I shoul be ordering another Vista M today. I will meet the custommer in an hour to see what is his color preference.
Congratulations.
It's a winner.
Paulo J. Pinto
Rio de Janeiro, Brasil


From: Lafourcade Philippe
To: Apco Aviation LTD
Sent: Thursday, July 10, 2008 8:14 PM
Subject:Re: Paragliding tandem project
I have begun my paragliding summer season in Alpe d'Huez.
Let me tell you only one thing, I don't like Fun 42 ! I just love "Him".
It is really a pleasure to inflate Fun 42 in all conditions even the worse.
As you have won with the weight of the canopy (cloth, lines etc) we can feel a big difference with all the tandems of the market.
It is coming above the head without problem and smoothly. I like that.
Several times, I took off with wind on the side with an excellent control of the side effect wind. Even I took off with strong wind inflated the wing in front of me and crossing the slope more we can imagine !!! and with smooth effect of the paraglider. my passenger was ligth (45kg). Good speed in the air even with light passenger.
When we land down, the ground is arriving slowly and easiest to manage than the Play for 2 (Octa).
I know many pilotes did'nt like the landing down of it (for me it was not a problem) now I think they will feel a big difference.
So, I find Fun 42 precise, accurate. The turns are engaged if we need. We feel immediately the thermals the less important.
I can tell you that, my first flight in St Hilaire with poor conditions, I was about 100, 150 meter above all the other solo and tandem only 3 minutes later after my take off.
The gliding of Fun 42 is perfect, often I took off the first before my colleague and I am landing down later after him. It was the opposite before with my Octa. I am enjoying that, exactly the same when you are first in a championship !
Congratulations for you and all your team, you have built a very good tandem.
I"ll advice for everybody FUN 42!
See you in a few days.
Yours. Philippe


VISTA

From: kenneth brunnemer
To: Apco Aviation LTD
Date: Friday, April 02, 2010 11:35 PM
Subject: [APCO Website] Comment
hello anatoly,
This is kenneth brunnemer your colorado dealer, just to let you know I had my biggest cross country flight of my career..
I had flown 32 miles on my large vista, but the amazing thing is that i have gained more weight, i now weigh 262 pounds witch is extreamly over weight for my glider, but that did not effect the performance of the wing, in fact it made it very stable in the roughest thermals i have ever been in..it is the best paraglider i have ever flown and owned, i will be getting more sales pretty soon as the season is upon us now..
thank you,
kenneth brunnemer


From: simoncrowther
To: info@paraglidingrainbow.com
Date: Mon, 26 Oct 2009 03:35:37
Subject: Vista
Hi Jean Luc,
Look at this attached picture of my GPS track: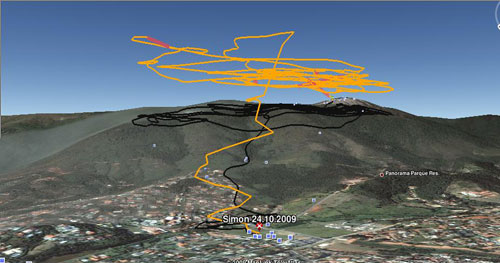 you'll see the Vista is going well. Lovely machine!
Now that I'm getting used to it, I think it's the best glider I've ever flown, handles well and real fun.
How's life at Rainbow?
Cheers, Simon.


From: Japan La Mouette
To: Apco Aviation LTD
Sent: Saturday, July 07, 2007 12:16 PM

"I flew several times with VISTA.I think it is very easy wing all the time. It will give smile to the pilots."
Best regards.
Yoshiaki Nakagawa / Japan La Mouette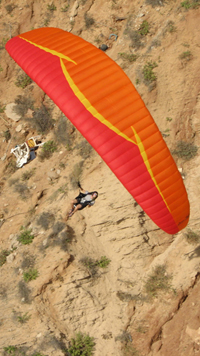 From: Darius Lukosevicius
To: Apco Aviation LTD
Date: Apr 19, 2007 8:04 AM
Subject: New Kansas state record on Vista
"Sunday finally we had winds calm down and I had a chance to try Vista.
Glider take off is very good to excellent.
I don't understand why in DHV test it's described as delayed,
it's fast, really fast, but amazingly glider stabilizes above pilot.
Winch towing is just straight forward there is not much to say.
Handling is very simple, I felt very safe even in low saving in turbulent condition at 100m AGL.
It's not collapsing at very wide angle of attack (if you miss to compensate).
So the weather appeared very good and I made almost 120km XC,
and increased Kansas state record,
(click here to see results).
Usually I fly DHV-2 or DHV-2/3 gliders but the Vista did not interfere for the new record :)
Very good glider, if I would fly DHV-1/2 gliders I would definitely get one for myself.
Flight is here: (click here to see flight) (you need to download *.igc file to see barogram)."
Sincerely,
Darius Lukosevicius


From: Jean Luc LeJaille
To: Apco Aviation LTD
Sent: Sunday, March 18, 2007 11:53 AM
Subject: Re: add to order
"Congratulations on the brake magnets, they are the best by far. The Vista is a winner as it cannot be faulted by anyone. The lift is excellent even heavy loaded, I can confirm. The new line of products have stepped up, new colors are good, we will be on top of the rest again."
Jean-Luc
Apco Australia

From: Melján János
To: Apco Aviation LTD
Sent: Tuesday, March 06, 2007 2:06 AM
Subject: VIST
"I'm sure, that the Vista is a best Apco dhv1-2 wing, what I ever tested."
Best regards,
Melján János

From: Vincent
To: Apco Aviation LTD
Sent: Friday, February 23, 2007 7:37 PM
Subject: Flying with the Vista
"More than two hours of flight today and good wethear conditions. The wing is nearly perfect, I keep it ! Good job..."
"Il y a de nombreuses années que je n'ai pas volé sous une Apco, depuis mon X'Tra le petit vélo tonique de la gamme à l'époque. Et vous le savez, les amours du passé peuvent être enfouies mais ne sont jamais oubliées et même quand c'est fini, «amour» ne rime qu'avec « toujours » !"
Best regards,
Vincent.

From: Stefan Stautner
To: Apco Aviation LTD
Sent: Saturday, February 10, 2007 8:45 PM
Subject: DHV-Gütesiegel sticker
"Today I had some flights with the VISTA. Very nice wing smooth handling good to start and i had flights with the ChairBag Harness. Nice seat, good feeling."
Regards and a nice week,
Stefan

From: Meyer Franz
To: Apco Aviation LTD
Sent: Saturday, February 10, 2007 6:24 PM
Subject: Re: HALLO ANATOLY
"I have flown yesterday the Vista M for 3 flights, the last more than 1 h in different thermal conditions. CONGRATULATION !!! this is the best APCO glider I have flown ! He is light in weight, handling and very save and homogen in his flight and landing performances. About the glide and sink-performance, I had a good feeling, but I had no direct relation to other gliders. I'm looking foreward to a good Vista- season!
Best regards,
Franz Meyer, Switzerland

From: Adventure Airsports
To: Apco Aviation LTD
Sent: Friday, April 11, 2008 8:02 AM
Subject: RE: Order

"I took the Vista out on the paramotor yesterday and it handles surprisingly well with a motor."
Kind Regards

Rob and Kate Lithgow




From: Ken Brunnemer
To: apco@apcoaviation.com
Sent: Wednesday, March 18, 2009 6:43 PM
Subject: RE: Dealer letter - Tandem Spreader Bar - March 2009

Just wanted to let you now, that I realy love the vista!

It is the best glider i have ever owned, very stable with lots of performance.

thank you





From: Andrey Chervinsky
To: Apco Aviation LTD
Sent: 16 October, 2007 9:41 AM
Subject: my new APCO VISTA

Dear Anatoly,
Please be aware that in September, 29th, we had all-comers competition in one of the paraglider clubs.
Though the competition program could not be called as a very rich one, but I managed to have the lead surely due to my new APCO VISTA wing.
Its speed and perfect controllability undoubtedly helped me to win.
Thank you once again.
Andrey Chervinskiy
Minsk, Belarus



KARMA
From:
Stew paramotoring
Date:
July 06, 2006
Just a quick thanks for a fun glider,the first flight in the Karma Large was with motor for two hours even with the Large motor I could thermal easily and under power had strong stable climbs that others could not match. My first flight in the Karma Med I flew a quick 12KM out and back late in the day the glide was very impressive and some of the DHV 2 S were having trouble making the flight. A great glider I am looking forward to going over the water with it I will let you know.
Thanks Stew.

From:
Jaap Eringa - Paragliding Holland
Date:
June 15, 2006
At last I flied the Karma and I like the glider very much. The condition were very rough my friens told me later but I didn't notice that at all. What did happen was that I soon was the highest pilot because thermaling with this glider is very easy. The steering is very light and I could centrate very small thermals. Even the glide with full speed system is extremely good for an DHV 1 glider. Then I did what the testpilots already did, but I like to do it myself too: letting collapse for more then the half canopy: the glider went still straight!
Summary:
The Karma is the safest glider I ever met. I feel good if beginners fly it, they can nothing do wrong with it and the performance is for such a simple glider unexpected good. My students learn vert quick from the beginning because setting up can evey child do with a Karma. Also I am confinced that licenced pilots still will like it!
Congratulations with this new glider!
All the best of Jaap Eringa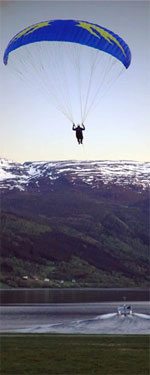 From:
Nordic Ventures
Date:
5 June 2006
I did a few front launches in order to check and adjust brake settings on the gliders and we towed up one of the Medium Karma's with an instructor to make sure the glider behaved nice on tow. All good so far.
By 7:30 am we started towing the students aloft with the new gear. Every single launch was flawless and over the next 3 days we did 50 tows with the students without one single aborted takeoff - this glider is amazing and seems to be behaving picture perfect on tow.
We use our own tow bridles that includes the tow assist system but I am sure that these gliders will tow as well without it as the launch charactericstics are perfect.
As the course progressed I was just waiting for someone to blow a launch but it did not happen. On the last day of the course we had all the student pull big ears, then assymetrical tucks and fronttucks. No problems here as expected. On their final flight we had everyone doing manouvers and then finishing off with a reserve deployment over the water in a controlled environment. All reserves deployed perfect (factory packed and assembled) so greetings to Larissa and thanks for doing a good job.
Blue Skies,
Jan Nielsen
Nordic Ventures AS

From:
Jose Casaudoumecq - Aerolight
Date:
13 June 2006
We tested the Karma with paramotor last Saturday (shipment arrived Friday) and we liked it very much. It is exactly what is needed for a beginner PPG pilot ... easy inflation in no wind or light wind conditions, nice handling, good retention of speed / energy when coming to land and good flaring characteristics. It is a very nice wing. It is competitive versus other beginner PPG wings in the market , we think it is going to be a best seller.
Thank you.
Jose Casaudoumecq

LAMBADA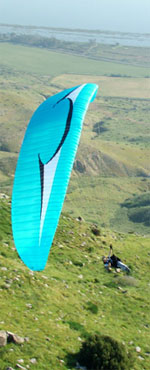 Via:
Northern Paragliding
Date:
30 March 2006
By the way, the Lambada is fantastic! Probably the most satisfying wing I've ever flown! It quite simply outperformed everything on our recent trip to India. I had two very nice cross country flights on it in the first two days. It's fast and has an awesome glide! Thanks again to you guys for the recommendation!
Gotta go for now mate
Talk soon
Blue skies
Chris

From:
Brett Hardin
I have flown lots of wings, and I have put 25 hours on a borrowed Lambada - I can't understand why more people are not aware of the Lambada's superiority in the DHV2 class - it must be a marketing issue because the wing is obviously the best in its class.
I will order soon
thanks
Brett Hardin

From:
Stephen Sherar - Skytek Paragliding (Australia)
Date:
12 February 2006
The Lambada, we have found to be very nice to fly, we have put them through the paces in flight, they are nicely responsive but well behaved, the speed at trim and accelerated is very good, many other pilots will land due to strong wind but we are able to keep flying quite safley, they are very easy to ground handle and land very easily as well, the wing gives a nice amount of feed back when thermaling, it is easy to find the core and maintain a consistent bank to stay in the core with out having the wing surging or the tips flapping - a predictable wing that can be activley flown yet gives no nasty surprises.
We are happy and look forward to a long and mutually properous relationship.
Stephen Sherar
Skytek Paragliding (Australia)

From:
Sgaria Andrea
Date:
26 October 2005
During my first test flight with the Lambada M, I have realized a FAI triangle of 90 km. After the purchase I have realized beautiful flights in Italy and Switzerland, exceeding more times the 100 km, also in many strong conditions.
I am extremely satisfied of my wing and I wanted to only communicate to you that for me you have made an optimal job.
Best compliments from a your become attached customer.
Bye bye!
Andrea

From:
Neil Cruickshank - Northern Paragliding
Date:
25 July 2005
We got out and flew the Lambada on Friday. As luck would have it we had a mini test fest and had the Lambada, Airwave Mustang, Nova Mamboo, Ozone Rush, Salsa and Pro-Design Jazz all on the hill at the same time.
Both my and Martin's opinion is that of the Mustang and Lambada, the Lambada is the nicest to fly with much rounder handling and better sink rate.
I have the Lambada in my bag now, so looking forward to giving a good try flying XC, but so far very impressed.
Best regards
Neil

From:
Yoshiaki Nakagawa - Japan La Mouette
Regarding LAMBADA. Yes, I tried to fly as much as possible with LAMBADA since it was arrived. I think your project got goal. LAMBADA must has easy handing with good performance. 2 days ago, I could fly 82 km with LAMBADA M. It was longest distance for me in this year. Sometimes the condition was turbulently, but I could control without trouble
Best regards.
Yoshiaki Nakagawa / Japan La Mouette

From:
Tehnofan
Date:
4 May 2005
The very first impresion of Lambada, but not 100% exact, because of unadequate weight (I have 68kg and use 15kg balast, on what I'm not very used):
Take off:
Like Bagheera - easy, no dead point position, at strong wind pilot is catapulted in the air
Handling:
Hard brakes but precise
Wingovers, spiral etc. clasic for Apco
Side colapses rare, practicly no correction needed
Performance and behaviour:
Stable also in bad conditions. For Keara pilots easy wing, because need no correct. by flying. Good termaling capacity, but this is hard to judge so far. Trim speed and LD the same as new Gradient Avax. Speed gives additional 8-10km/h and glider steel feel stable.
First impresion is very positive and forecast for sale is much more optimistic than with Keara.
Best Regards, Stefan

SALSA
From:
Jaap Eringa - Paragliding Holland
Date:
June 19, 2006
I have some remarks about the Salsa
18 juni 2006 I let an rather experienced student fly on a Salsa M. The performance of a Salsa is quite good, that's why I am always reluctant to give such a glider to a student in rough conditions. Only 10 meters of the ground the student got a collapse: half the canopy was gone. To my surprice the Salsa didn't turn at all and opened in a second by itself. The student could still make a normal landing. What a safe glider!
bye Jaap Eringa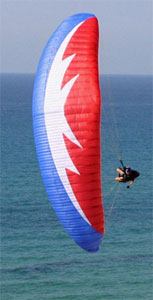 Jose and Anatoly,
The new Salsa is great! It launches easily, feels light, gives great feedback in the air, turns very smoothly, and has a nice glide and sink rate. It does everything well!
Thanks.
Rick Higgins

From:
Stephen Sherar - Skytek Paragliding (Australia)
Date:
12 February 2006
The pilot of the salsa M is also happy with the wing and the Finesse top harness, he has around 50 hrs experience so chose the salsa but has also flown one of the lambada's and finds both wings very nice in handling but enjoys the extra speed and responsiveness of the lambada; the salsa has been shown to have a very good sink rate and is usually top of the stack.
We are happy and look forward to a long and mutually properous relationship.
Stephen Sherar
Skytek Paragliding (Australia)

From:
Neil Cruickshank - Northern Paragliding
Date:
25 July 2005
Of the 1-2's, the Salsa doesnt disgrace itself at all. Ive flown it alot this year and like it more and more. I did think the brake pressure was high, but having flown the Mamboo and Jazz, I now realise that this is the case with them too. Only the Rush has lighter brakes. In level flight I think the Salsa has the edge, superb glide and good speed. Looking forward to trying the new brake kit.
Best regards
Neil

From:
Neil Cruickshank - Northern Paragliding
Date:
9 March 2005
I managed a couple of days flying on the Salsa S and am very, very impressed. Great glide, with and without speed bar, nice positive brake pressure like the Presta but much better turn response. Altogether a nice package. Well done.
Many thanks, best regards
Neil

THRUST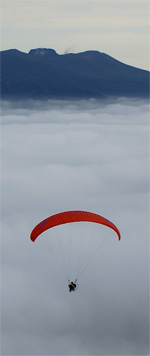 From:
Venelin Staykov
Date:
13 June 2006
---------- English Translation ---------
Hi,
Writing to you a Bulgarian pilot, Venelin Staykov
Want to say to Anatoly Cohn and his team at APCO a big THANK YOU for such a beautiful paraglider Thrust - created by you.
I have been flying since 1998 and until now mainly flew Nova wings
But .... last year I was lucky enough to fly in New Zealand for 20 days side by side with your dealer Jimmy. I am an experienced pilot, made several 400+km XC flights and went over 5,000m. altitude .
Flying my today's wing Nova Aeron beside Thrust gave me an excellent opportunity to compare and see the Thrust's advantage. Following this impression, we have in Bulgaria several Thrusts flying and all pilots are extremely happy with the wing Last Saturday, I flew triangular 50km. in less than an hour - the wing performed spotlessly!!! No problems whatsoever!!! Once again thanks again!!!
Venelin


From: Paul Haxby - AXB Sports Ltd
Date: 20 June, 2006

Please see attached for some recent flying with my two daughters (5 years old Rebecca and 2 years old Amelia) who flew with me on the Apco Thrust. Great for take offs even when you have a child strapped to the front of you.

I also used the Apco Thrust to do a paramotor flight over Snowdonia in North Wales and I am producing a promotional video for AXB Sports that will be available at the end of the year. The Thrust allowed me to do some steady camera photos and video work over the highest mountain in Wales.

Regards

Paul Haxby
AXB Sports Ltd


THRUST HP
From: Aerosupply Scandinavia AB
To: Apco Office
Sent: Thursday, January 22, 2009 5:39 PM
Subject: General / Paramotor Harness
Dear Anatoly, Hopefully things are well at your factory...
First, I would just like mention a thing about the Thrust HP we received from you earlier, that was intended to be used as a demo glider here...
I was really pleasantly surprised by the easy inflation/handling of that wing, and it's a pure joy to fly... I have flown several brands of gliders earlier, including Gin, Swing/Powerplay, Skywalk, Ozone, etc, but this one sure beats them all, and I will probably end up keeping it myself !
Best regards
Aerosupply Scandinavia AB
Aviall Associate
Distributor Anders Persson
Managing Director

VISTA III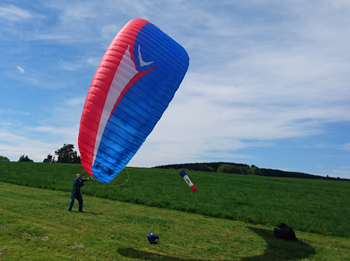 From: Mark Weiss
To: Apco Office
Sent: Monday, May 23, 2016 5:29 PM
Subject: Vista III touring
Hello Apco Team,
Yesterday we had a very nice flightday. My colleague with the VistaIII touring and me with the Zefira greybird.
Towing on the "schwäbischen Alb". Thanks to Apco for the nice support and the excellent wings!
Best regards Mark.
Your german Partner.
From: Martin Polach
Date: Thu, May 5, 2016 at 8:28 PM
Subject: Vista III
To: Apco Office

Dear Anatoly and Associates, I would like to thank you very much for producing the Vista III.!!!!

I have been flying hang gliders for almost 40 years and paragliders for about 15. I have always maintained that the ideal craft would take off and FLY like a hang glider but would land and transport like a paraglider...I think you are starting to get close with this wing.

A couple of weeks ago I had the opportunity to ground handle a Vista III at Muller Windsports (my next door neighbour) in switching conditions. Instant Fascination.!!!
To my mind ( a conservative 69 yr old currently on a Gin Sprint) it was like a delightful little sports car...Maneuverable, responsive, light....absolutely excellent! I was so excited that I made the decision immediately...I want this glider!!!

Have only had a few flights so far but have found launch (in relatively strong conditions) fluid...landing nicely and solid in turbulence...It seems quick in the air..etc, etc, I am really looking forward to some excellent airtime on this little wing!

Thanks again and all the best to you and your staff .

Ciao,
Martin Polach,
Canada
From: mafan no
Sent: Thursday, December 31, 2015 4:16 AM
To: Apco Office
Subject: Vista 3


I flew the Large Vista 3...


noon. below the BOWR by 12 kilos in light thermal, light wind... ridge soaring at my beach site... swift inflation, nearly overflew me, had to run to catch up, immediately lifted me gently in the modest ridge lift... Rode the 160 agl ridge for 5 minutes when I notice a policeman taking videos on the road below. I don't feel like explaining to him how this site is not illegal, we have mayor's approval, blah, blah.. So, I prayed for thermal enough to keep me up until he left.Small sharp noonday thermal bursts kept me up. But I had to find then. The feedback was in the form of polite but definite nudges left , right, forward. never a flap or tip tuck, no stabs or jabs.. Even with deep , sharp turns, close the thermal source. 20 minutes later he left. I went to the beach, still over 100 high. Landed gently in cross wind on the only small patch of grass, kited, very impressed.
Offered the policeman free paragliding lessons and left at 1:10.

2:30

Arrived at my inland site 450 agl, 11 K winds on the mountain, 20K winds in the valley. Carried 12 kg water ballast.
Easy take off with no wing tip deflations at a very complex launch. Other pilot sunk out after 15 minutes at LZ One, 2 km away. I rode the ridge for 1/2 hour carving tight flat turns, kicking tree tops, chasing eagles... took the long glide out to LZ Two, 3 km away across a lot of scrubby foothills with no emergency landings...arrived with 300 agl to spare. great glide. nice flat turns. great penetration in strong winds.
A full generational shift in performance from the Vista 2 with the same passive safety.
It was the first day of our winter season. Looking forward to some great XC flights on a whole flock of Vista 3's. performance for high Intermediates with safety of a beginner..

Congratulations on a phantastic design!

Malcolm aka: Ma Tai - i

TWISTER

From: wade maxwell
Sent: Apco Aviation LTD
Subject: Twister
Dear Apco, Just writing to say thanks again for a great wing (Twister).
I just participated in "Wings over Bear Lake" it is a small time aerobatics comp, but the only one we have in the USA this year. I came in first place. Thanks, Wade.
Swift Harness

From:
jose maria
Sent:
Thursday, March 23, 2017 10:58 PM
To:
apco@apcoaviation.com
Subject:
Re: Newsletter :: News and Updates :: March 2017
Muchas gracias, estoy muy contento con la Swift de apco. Un saludo y seguir trabajando asi amigos.

From: Jerome Kaegi
Sent: Thursday, September 08, 2016 2:54 PM
To: Apco Office
Subject: Swift R
Hi,
Feedback - Swift R

I have now done 3 cross country flight, total of 8 hours and I felt great even after long flights.
Very comfortable, compact, perfect in weight shifting!
Congratulation that is the best pod harness I have ever tried.
The back airbag/aerodynamic thing takes a bit long to inflate (0.5-1 minutes) but everything else is just spot on!

Jerome
ChairBag

From: Nick Crane, Paracrane USA
I am excited to have my first shipment!
The chairbag harness is awesome, I really like the design and I think it's the best on the market I've seen.


EDGE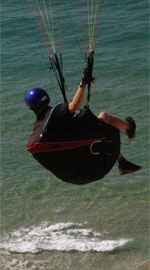 From:
Steven Acord
I am a new Pilot and all though I do not have many flights right now under my belt I wanted to let you know how awesome your Edge Harness is, well I don't have to tell you how awesome it is but my experience with it was awesome. I felt so comfortable and when leaning into my turns I would wrap around me as if I were part of the harness.
I look forward to finishing my instruction and earn my rating and taking my first cross country flight in what has to be the most comfortable harness out there.
You can count on me as a return customer and promoter of APCO products. Thanks again!
Steven Acord

POROSITY
From:
Concept Air
Hello Anatholy just for to say hello, here! i'm paraglider-repair guy and kite-designer , often i testing your product with the JDC porosimeter your product is amazing, yesterday i was testing a Prima 1999, and the clothing stay stable around 560 and the contruction is very good too, i was going outside for a inflate test and like a brand new....Bravo... Ben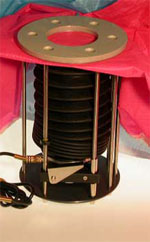 I have purchased JDC Porosimeter MK1.
So far I have not used it very much, but yesterday I measured my old Sabra manufactured in 1994 or something like that. It has been flown maybe about 100-150 hours, most of the time it has been as school-glider.
I was quite surprised about readings which were between 495-703 with average of 620 seconds for siliconized fabric. On the same glider there is some panels made of non-siliconized fabric, readings in that area was 65-70. Difference between different cloth seems to be enormous. Surely some of difference comes from the MK1 since siliconized fabric is smoother and there is probably less leaking between fabric and unit, but that does explain only small amount of difference.
So far I have thought that there sure must be some small difference between siliconized and non-siliconized fabric, but I have thought that using siliconized fabric is mostly marketing trick.
Now I really have to change my mind. Your siliconized fabric is not just marketing trick, it really is much much better than average cloth.
I don't know how actively you use your porosimeter, but I will ask anyway. What is your opinion about readings, when has "danger-level" reached? Porosity surely is only one of reasons to "get glider out of use", but I would like to hear your opinion about that.
Petri Rantala
Paratronic Oy
FINLAND

COMPATIBILITY FOR PARAMOTORS

Dear Anatoly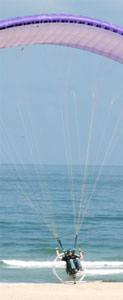 You may remember that I emailed you to say how very pleased I was with my APCO Bagheera. I thought that you would like to know that I have also bought an Allegra for paramotoring. I have only had two powered flights on it so far but I am amazed by it!

I have been paramotoring now for four years and have flown several different wing/motor combinations in that time.However, the Allegra is something else! I find that it takes off very easily, doesn't yaw and inflates well.

But best of all, with my engine on fast tickover, the wing almost maintains level flight! I have problems getting down to land because it is so effecient! Added to that I use so little fuel - my last wing (the "Reflex" - designed specifically for paramotoring by an Englishman) used around 4/5 litres/hour. With the Allegra I am using just 2 - 2.5 litres/hour. The last time I got fuel economy like that was when I first started paramotoring and to acheive that I was using a very large Airwave wing that was very "floaty" but very difficult to launch in light/nil winds and slow as well.

The Allegra as a paramotor wing is superb, it is quick, excellent glide and easy to launch. Best of all it is AFNOR "standard" too. I am flying my (medium) Allegra deliberately overweight. I am about 120 to 125 kilo all up with the fully fuelled paramotor on my back. I know that is outside your pilot weight range but the new thought in Europe is that you should fly overweight on your paramotor wing to get speed and effeciency - this certainly seems to work OK.

I look forward to hearing from you soon.

Regards

Mike Richards

PS. Both my APCO gliders are excellent.

From: Adventure Airsports
To: Apco Aviation LTD
Sent: Friday, April 11, 2008 8:02 AM
Subject: RE: Order

"I took the Vista out on the paramotor yesterday and it handles surprisingly well with a motor."
Kind Regards

Rob and Kate Lithgow

COMPARISON: BAGHEERA & ALLEGRA
by Brett Hazlett
There has been a lot of talk this season about two new gliders from Apco- the Bagheera and Allegra.
Recently, I had the opportunity to fly both these gliders in the medium size courtesy of Muller Hangliding and Paragliding and FlyBC Paragliding. The following are my impressions of the gliders and performance figures that I believe to be close to reality.
Apco Bagheera M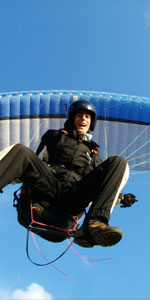 Flat area
: 28.2sqm
Flat aspect ratio
: 5.9
Total weight range
: 85-105kg
Vmin
: 21km/h
Vtrim
: 36km/h
Vmax
: 50km/h
Min sink
: -0.9mps
Best glide
: 8.6:1
Certification
: AFNOR "Performance", DHV 2
Apco Allegra M
Flat area
: 29.1sqm
Flat aspect ratio
: 5.5
Total weight range
: 85-105kg
Vmin
: 21km/h
Vtrim
: 35km/h
Vmax
: 46km/h
Min sink
: -1.0mps
Best glide
: 8.1:1
Certification
: AFNOR "Standard"
The Bagheera and Allegra share some design philosophy. This is seen on the ground, in the air and from the "feel" the gliders give while thermaling.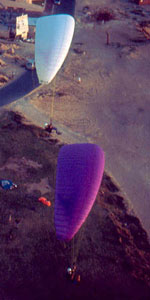 Spreading the gliders on launch, one notices the unique texture of the sail material. From what I have heard, the P.U. coated and double siliconized cloth offers exceptional performance and durability. Apco's 3year/250hour warranty seems to be consistent with that claim. I also appreciated the quality of construction and attention to detail that was evident after having a close look at the wings. Both gliders were straightforward to launch and easy to land.
When test flying a glider, hanglider or paraglider, I try to let go of thinking about specifics about how a glider flies and instead I try to notice overall impressions, particularly while thermaling, as one usually spends about half of a cross country flight thermaling.
Both gliders were similar in that they were very responsive to weight shift, required very little adjustment with the brakes to follow wandering thermal cores and with active flying the wings felt solid in turbulence. The Allegra was a little different in that brake pressure was slightly higher and while thermaling the glider felt less lively or more dampened. This implies a higher level of safety as expected from its certification.
Thermaling these gliders did not require much effort and by comparing climb performance with other pilots that I often fly with, I found these gliders to have a large "thermaling capacity". If you like thermaling, \this means a lot of airtime; if you like cross country flying, this means a lot of distance; but this will always mean a lot of FUN!
Now as far as performance is concerned, the Bagheera and Allegra perform very similarly at lower speeds with the Bagheera having a definite advantage while accelerated. However if you fly a Bagheera but do not spend much time accelerated during a cross country flight then an Allegra would likely be able to keep up with you. Remembering that the Allegra is "Standard" rated makes it a very appealing glider indeed.
They are both really nice gliders so how should one chose?
If you are interested in serious cross country flying but not competing then an Allegra is the glider of choice. If you want to compete seriously then I would recommend either; the Allegra if you want the safety that it has to offer, the Bagheera if a little extra performance is important to you.
(Brett Hazlett is a member of the Canadiam Hang Gliding Team and started flying paragliders a year and a half ago. His first glider was an Apco Sierra 28. Brett is a 3rd year engineering student)

HYBRID POWER WING

From: Greg Yarbenet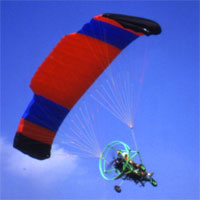 Dear Anatoly,

Just to let you know that early this morning I flew the Hybrid 500 & was totally amazed at its performance!!! This has to be the best canopy I've flown in 16 years of powered flight! The conditions were more on the windy side & gusty and after a few turns , etc. , I felt very at ease in the air with it!

Looking forward to talking with you!

Take care,

Greg



Hike harness


Source
:
Paragliding forum
Published by
: Aaron (Aaron Richards)
Sent
: Wed Jun 11, 2014 3:11 am
Subject
: Apco Hike Harness
I've had the Hike harness now for a couple of weeks. Flown it with my speedwing and paraglider wing. Very comfortable harness. There was none of the uncomfortable seating position (wedgie effect) that I had on my older light weight harness.

The backpack of the harness has a handy separate pocket made into it for storage. Its easy to flip the harness inside out, and back again. When in harness mode, its actually quite large (meaning a nice large seating area - for this type of harness)

I put some standard carabiners on it that I already had.

I've now spent a few hours flying with it, and I'm impressed with it.

A mate got one at the same time as me (he got the lime, I got the Orange colour), he loves his too.

Its also very well made and nice materials. I'm just looking forward now to get the attachable airbag for it, when its produced.

Aaron
Split Leg Harness

From: casey cadwell
Date: Wed, Oct 7, 2015
Subject: RE: Split leg slt harness
To: Apco Office
Thank you Sally. I've been flying paramotors for 21 years. I have accumulated over 2300 hours in the air. Flying with the split leg harness was a huge step in the right direction to improving our sport. It makes a non weight shift high hangpoint harness actually feel like a weight shift system. Keep up the innovative and good work.
Casey Cadwell.

From: Keron Kent
To: APCO AVIATION
Sent: Wednesday, May 12, 2015
Subject: SPLIT LEG PARAMOTOR HARNESS
Hey Adam, thanks for your technical advice on my new split leg harness. It was easy to fit with only a very slight modification. I've tested it and I just wanted to say that this harness is excellent, everything I had hoped it would be. It's comfortable with good freedom of movement and the split really makes weight shift really easy. It's great! Well done.

K'ron Kent
London


From:Claude
To: Apco Office
Date: Tue, Jan 5, 2016
Subject: SPLIT LEG

I love your new harness!! Amazing how it improves every aspects of flight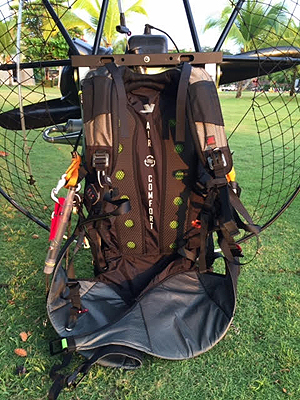 From:Francis gagnon
Sent:Friday, January 29, 2016 6:11 PM
To:apco
Subject:order
Hello Sally, I need to order another helmet free air com III... as you can see one of our clients had an accident... prop strike directly on the head... by chance he has no injuries due to the great quality of the helmet.
Thanks!