New World Record Initiative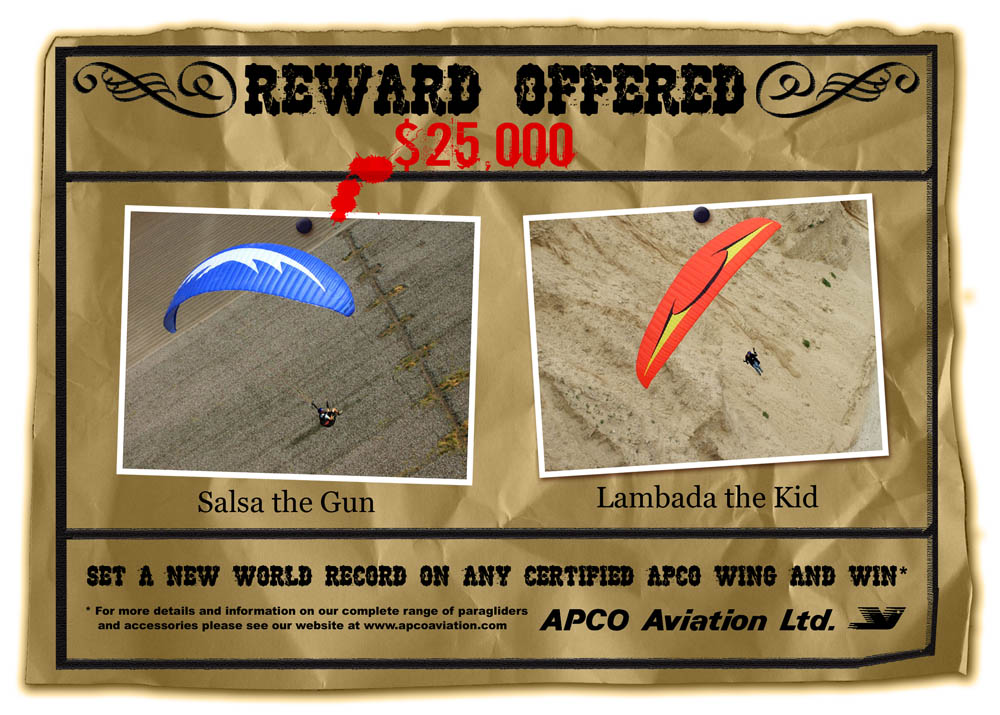 WORLD RECORD PRIZE
APCO announces a new intiative, sponsoring a campaign to conquer the Paragliding World Record - open distance or declared goal (free flight) - to be made on a standard APCO certified product from the current range.
An unheard of prize of
US $25,000
in cash, will be paid to the pilot breaking the world record. The record(s) must be FAI approved, fully documented and followed by a well written story and collection of nice, print quality photos featuring APCO products used for the new record.
APCO will also handsomely reward a good story with attractive photos telling of the attempt to break World Record on an APCO current wing - even if it was unsuccessful and just ended up with remarkable flights -publishable in the media.
For pilots needing to obtain an APCO wing to make an attempt to break the World Record - a special deal will be offered.

WORLD RECORDS
WORLD-CUP FINAL RANKINGS
MAJOR NATIONAL LEAGUES OR NATIONAL XC RECORDS
(German, French, British, Swisss, Japanese)
OTHER NATIONAL LEAGUES OR NATIONAL XC RECORDS
(Spain, Italy, USA, Canada, Sweden, Norway, South Africa, Austria, Brazil, Slovenia)
WORLD CHAMPIONSHIP
EUROPEAN CHAMPIONSHIP
EUROPEAN RECORDS