APCO News 2010
October 2010: BLADE :: APCO's first competition harness
The BLADE stands out for its comfort, finish and clean lines. The drag reduction of BLADE is among the best in its class. The weight of the BLADE harness is on a par or lighter than most popular competition harnesses available today, but without compromising on its durability or safety.
BLADE will appeal to pilots who prefer a classic pod harness, offering total comfort, maximum security, world class drag saving, blended with stylish design and loads of extras.
for more:
click here

October 2010: Purpose built wing and emergency parachute for paramotor Trikes
We all have probably noticed the shift of trends on the market. Paramotor flying is continuing to expand, leading also to new flourishing tandem trike market. Most paramotor manufacturers now offer trikes too - single and tandem . Their popularity is definitely on the increase. We at APCO noticed this, and decided that the time is right for purpose built emergency parachute and appropriate wing for the emerging paramotor trike market.
We are proud to announce a beefed up and heavily reinforced version of Play 42 MKII for loads up to 340 kg.
Play 42 UL
built to accommodate the majority of paramotor trikes on the market.
To complete the UL range, we are offering the
MAYDAY 28 UL
, a new pioneering emergency parachute, specially designed for trikes - single and tandem.
for Mayday UL certification test movie:
click here

August 2010: NEXT GENERATION BAGS FROM APCO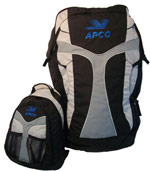 It's now time for us to introduce a new paragliding bag - it's not that the old model was bad, but we felt it's time to refresh
We have discovered that it is not that simple to make a good bag even better, but we did our best - you be the judge!
Before starting the project we did a comprehensive dealer review, asking their opinion and advice as to what features they would like on the bag and what kind of a bag they would like to have.
We are proud to present the results - 2 new bags, matching design and colors bearing the APCO logo - highly visible and recognisable
1. Paragliding bag
2. Day bag / backpack to match
for more:
click here

August 2010: FORCE certification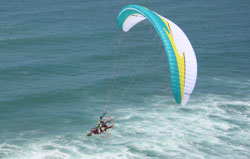 Finally after a long wait, we are glad to confirm - Force M successfully completed all certification test flights. It is rated EN C on trim speed and fully accelerated on speed bar
Click here for FORCE Flight test report...
Now, it is obvious - Force is a winner and due to popular demand we will be adding a Force L to complete the range of Force to suit heavier pilots and for trike flying.
A few recent comments on FORCE from pilots around the world:
click here

August 2010: NEW TWIST LOCK CARABINERS

Two new additional Twist Lock carabiners alongside our veteran Press Gate Carabiner. This state of the art carabiners are carefully designed and beautifully finished to offer safe, user friendly alternative for paramotor and free flying pilots.
Made by hot forging from 7075 Aluminium tempered to T6 (Aluminium type known as Zicral)
Rated to 2,000 kg. Minimum Breaking Load.
Weight - 60gr.
Dimensions - 70x65 mm.
Will accept up to 45mm. webbing at the base and 25mm. webbing at the top
Safety twist lock is with triple or double security
Easy to use, pilot friendly. No sharp grooves to allow easy in and out of harness and riser webbing.
for more:
click here

August 2010: New improved chair bag Integral II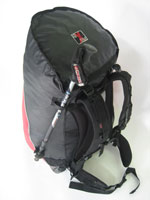 All accumulated experience and pilot feedback have been implemented into ChairBag Integral II, probably making it the best in its category.
Unlike other convertible harnesses on the market, the ChairBag comes with a full-size seat plate for maximum comfort and weight shift control. Pilot protection insured by the integrated Cygnus air bag system and the under the seat emergency parachute container.
Fitted with quick lock buckles throughout and Aluminum loop-and-slide adjusters for easy in-flight use, the ChairBag provides lavish comfort where you least expect it.
for more:
click here

May 2010: New Reflex high end paramotor wing - FORCE
Apco's new Reflex paramotor wing - Force, turned out to be an instant, unparalleled success
These are only a small part of comments we have recevied:
Tomas Peterson our Swedish dealer: "
its simply the best wing ever flown and available to pilots. We will take the market with it by storm
"
Aloyzas Liaukus in Lithunia: "
Best motoring wing I ever tried !
"
Ott Maten in Estonia: "
I asked our champion, Paap Kõlar, to testfly Force.
Briefly his comments:
General - very, very nice and safe wing. Much better for freeflying as his own wing Dudek Plasma.
Excellent start - best wing he has ever tried. Nothing to do - all happens itself.
"
for more:
click here

May 2010: New YouTube Channel for Apco
We welcome you to subscribe an enjoy our new video gallery on YouTube.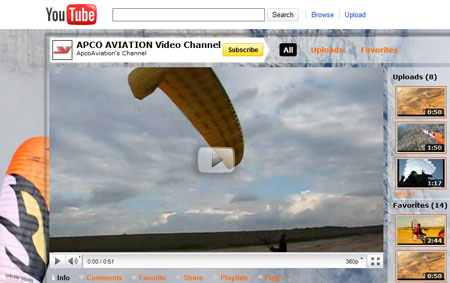 more movies and product updates to come soon...
To view Apco's YouTube Channel:
click here

April 2010: Air Xtreme helmet range updated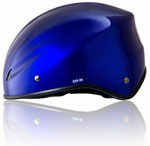 Our popular Air Xtreme brand of Free Air, Speed and Blade finally coming in new updated shape. All 3 helmets are based on time proven successful designs which were offered by APCO for a number of years .
The updated Air Xtreme helmet Features:
New shape - Eye catching, stylish, low drag design with sleek profile
All helmets manufactured using carbon-fiber technology from hand-laid fiberglass
Narrow reduced drag profile - advanced aerodynamic shaping
Interchangeable internal padding (washable)
Anti-allergic lining
Lightweight, stylish design

Ventilation slots, metal netted for optimal air circulation and cooling
Top quality materials for comfortable fit and long-lasting wear with excellent protection
for more:
click here

January 2010: SPARK - NEW sports harness from APCO!!!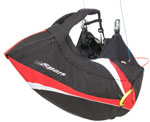 The SPARK stands out for its comfort, finish and clean lines. The concept of SPARK is based on latest harness design principles, taking APCO technology to new heights.
Now even more comfortable, more sophisticated and sleeker than any other harness on our range.
SPARK shares the philosophy and design approach with rest of our harnesses.
SPARK will appeal to pilots who prefer a classic harness, offering total comfort, maximum security, blended with stylish design and loads of extras.
for more:
click here