APCO News 2009
December 2009: WARNING!!!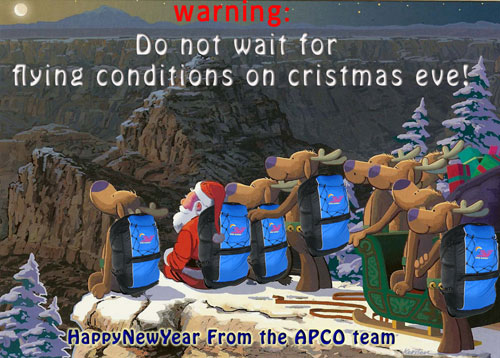 November 2009: Fresh Brazilian XC Paramotor Record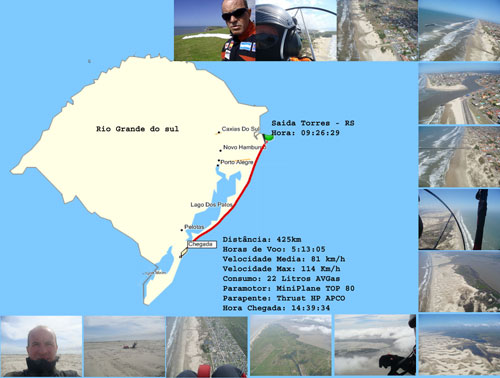 In a competition orgenized by Marcelo Menin (our contact in Brazil) the Brazilian record was broken!!
Pilot: Claudio Lippert
Wing: APCO THRUST HP S
Paramotor: miniplane ABM TOP 80
And the results are:
distance: 425km (new Brazilian XC Paramotor Record)
Fly time: 5:13:05
take off time: 09:26:29
landing time: 14:39:34
average speed: 81 km/h
Max speed: 114km/h
consuption 22 liters of gasoline
Date: October 2009
This Competition is the ultimate test for reliability, performance and safety of the equipment.
Perhaps equivilent to the ultimate test of car reliability in Paris-Dakkar race.
We are glad to point out that Thrust HP was up to the job, proving its extraordinary qualities

Well done Claudio!!!!!!!!!!

We are sure more achievements and record breaking flights will follow to be reported

October 2009: Reviews : : LIBRA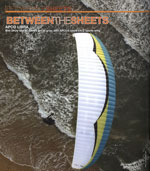 our top performing free flying wing, also has a reputation as such Pilots appreciate its performance, safety and handling
and is fast gaining popularity Libra recently was evaluated by 2 leading paragliding publications - the reviews are excellent (unsolicted) Apparently Bob Drury and Noel Bertrand both liked the wing very much - read what they have to say:
Bob Drury, Cross Country Magazin: "Over the course of several weeks and 15 hours I went from from being a sceptic, unsure of the slightly unusual feedbackthe Libra was giving me, to a full blown Libra lover how now doesn't want to give the glider back."
for more:
click here

July 2009: New lightweight Composite Seatplate for Chairbag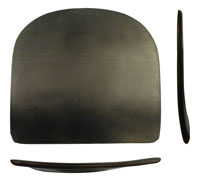 At last, after much blood, sweat and tears (not too much blood!!) - APCO has come out with long promised, long awaited composite lightweight seatplate for harness
200gr. - a saving of 300gr. (vs. 500gr. for plywood seatplate) making Chairbag 15% lighter from 2.5kg. to 2.2kg. only - pretty remarkable !!!
Ergonomic shape to comfortably support the curves of your behind
Composite sandwich design with airex filler - I bet this says nothing, but sounds good - carbon fibre technology
Well tested for strength - we made some pretty tight spirals to check that it will not break (but not meant for ACRO or hard abuse)
This particular composite seatplate is designed to fit all models of Chairbag - Chairbag is supplied as standard with plywood seatplate - lightweight composite seatplate is an option for extra charge and has to be ordered separately
Lightweight composite seatplates will also be available in future for Edge range.
for more:
click here

May 2009: Vista HP - New high end paramotor wing from APCO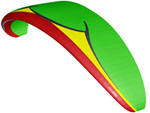 VISTA HP - APCO's high end, hybrid reflex technology paramotor wing - purpose built and tuned for pilots who seek uncompromised safety, peak performance and fine handling.
Available in 2 sizes - VISTA HP S and M - covering weight range from 70kg.-165kg.
EN Certification flight tests confirm the outstanding safety of the wings.
VISTA HP size S - Class B rated
VISTA HP size M - Class C rated
(all maneuvers rated A and B, except one C for brake range travel at maximum weight- too short)
VISTA HP is a direct result of pilot feedback and the demand for higher performing, quicker handling, wide speed range wing, which could stand up successfully to latest generation of reflex wings.
Featuring competitive speed range and performance, combined with the classic virtues of APCO's paramotoring range - this is what makes the VISTA HP a true winner. Perfect launch and flare, even lighter brake pressure and more responsive, direct handling than you are used to from APCO wings, delightful and reassuring.
for more:
click here

April 2009: Grand Comparison test of rescue chutes confirms superiority of APCO's Mayday!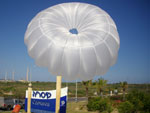 From APCO's extensive emergency parachute range 2 chutes were submitted - Mayday 18 SLT and Mayday 20 SLT (both are new superlight versions of our well-known Mayday 18 and 20) Also our veteran, time-proven, pioneer Mayday 16 was included - presented by a dealer from his stock, without our knowledge
We at APCO have nothing to hide - proudly presenting the results as they are, to be evaluated by the industry and judged by each of you - so let the numbers speak for themselves
1. Mayday 20 SLT ranked no.1. Is at the top of all 41 chutes tested - Stability 5 and the best sink rate (4.48 m/sec.)
2. Mayday 18 SLT rated Stability 5, with sink rate 5.1 m/sec is on of the few best. It is the lightest chute per kg. of load (see table attached)
3. Mayday 16 is also among the best chutes, with stability rated 4 and sink rate 6.15 m/sec.
Mayday 18 SLT and 20 SLT are the newest additions to the Mayday range - stocked now and available.
Their designs based on well known and respected Mayday 18 and 20, but with weight and volume drastically reduced thanks to the use of the latest lightweight hi-tech components and materials.
The SLT range expanded to include Maydays 16, 18 and 20 for free flying and paramotor pilots, seeking the best, lightest equipment with no compromise.
for more:
click here

April 2009: NEW Tandem Spreader Bars!!!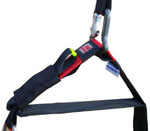 Our Tandem Spreader bar is now redesigned and better then ever.
Apco's Spreader bar was first launched in the mid-90's and has been delivered with virtually no changes until recently.
Hundreds of our spreader bars are still in use, but in our constant striving for perfection we decided to upgrade Apco's original spreader bar with this new design offered now.
The Spreader Bar has been fully redesigned. An automatic B-stall mechanism integrated into the spreader bar - B-riser / B-line collapse of the main wing is a built-in facility and deployment of rescue in emergency case will collapse the wing automatically. It has integrated 2 main hook-in points for tandem wing to counterbalance the pilot and passenger weights and 2 different height passenger connection points (for the same reason).
The new design is fool proof , not allowing for any mistakes in hook-in - all points clearly marked in Red. Spreader bar was tested for very high maximum load to guarantee its integrity.
for more:
click here

March 2009: A stunning scenery slideshow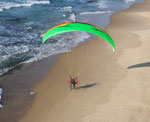 Paul Haxby, our UK rep, paramotor manufacturer and talented photographer visited Israel and recorded through viewfinder his impressions, here in a slideshow. Stunning scenery, bright colors - a country of contrasts, blending ancient with modern
To view Slide Show:
click here

March 2009: New XC/sport glider from APCO - LIBRA!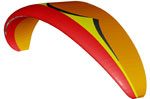 LIBRA is truly a cornerstone development from APCO's paragliding design house.
It offers true, unbeatable XC performance combined with total comfort and stability - inline with APCO's long tradition of top performing gliders.
LIBRA's built-in outstanding performance, a result of a super-low drag design, incorporating embedded minimal drag top line cascade (pioneered by APCO), "zero drag" revolutionary bullet risers (first ever - will be copied by all!!!) and drastically reduced total line length.
Carefully crafted efficient profile also plays an important role in delivering the performance you expect from APCO.
LIBRA will excite you from the first moment you take flight.
for more:
click here

March 2009: TOW RELEASE 2009!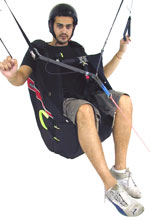 All our pilots are familiar with this item and it is being used worldwide.
Some of them pointed out a design shortcoming. It is a Y-shape webbing with quick release 3 ring system at the end. Once connected to the harness, leaves only limited space for pilot entry and exit from the harness - inconvenient In emergencies and during SIV practice when landing in water, it is an obstacle preventing easy exit from harness - safety hazard.
The new design of tow release overcomes the problem.
By activating the release it separates and splits open the 2 legs of the tow release, allowing safe, easy exit from harness (with nothing in the way to endanger)
A small but important improvement
for more:
click here

December 2008: NEW Paramotor container!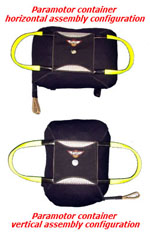 Apco's paramotor container is made from neoprenne allowing neat fit for a wide range of emergency parachutes in size and bulk, all while using the same container.
On the back of the container are connection straps in universal design allowing connection to a maximum variety of frames.
The container allows for left or right hand deployment - highly visible handle, easy to grab, safe to throw.
Handle placement accomodating for horizontal or vertical assembly of container, providing maximum flexibility in coupling to many different frames.
In short, it simply must be a masterpiece - the best made, best looking, universal emergency parachute container designed to fit most frames, offering easy operation, safe deployment and convenient location.
Code 80026 (size S) to fit Mayday 16 LT and SLT+ Mayday 18 SLT
Code 80025 (size L) to fit Mayday 16, 18, 20 and Bi
for more:
click here

December 2008: New Tandem Glider Carry Bag!!!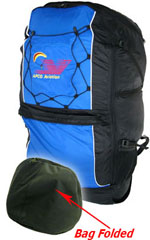 The Tandem glider Carry bag has a built-in expander, allowing for extra 60L volume while retaining the same amazing features of our standard bag, making a best seller even better. When zipper of expander is unzipped it adds another 10cm. to the depth of the standard bag, allowing for easy storage and transportation of big tandem wing + 2 harnesses.
The backpack is now more comfortable and folds and stores in your harness with ease. It is one of the most comfortable Bags on the market today. It uses design features found on modern hiking backpacks, which ensures maximum comfort on walk-ins (or walk-outs). It is suplied standard with any Apco Tandem glider when purchased new, but can also be purchased separately.
The result is a state of the art Tandem paraglider bag which weighs only half of the old bag and can store and transport a big tandem wing + 2 harnesses
Built-in expander, allowing for extra 60L volume
Bag Weight - 1 kg
Empty pack volume below half of a standard bag
Bag folds into itself for easy storage while flying
Uses 210 denier high density ripstop Nylon with PU and water repellant coating
Shoulder and Waist Carrying straps are gel padding based - for maximum comfort and minimum weight and volume
Advance

for more:click here



December 2008: NEW CLINCH BAG WITH CARRY STRAPS!!!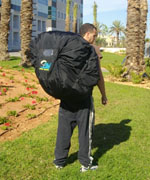 For many years we offered our clinch bag with carry straps designed for tandem, as well as solo pilots who appreciate the convenience of having one.
Its now time to revise the design, upgrading the clinch bag to the latest standards, answering the needs of the most discriminating pilots.
The goal was to make it easier to pack, and far more comfortable to carry. The clinch bag now shares the same professional carrying system as our standard paragliding bag, as well as Chairbag. It is one of the most advanced systems on the market, insuring maximum comfort and ease of use The carry system provides correct positioning of the clinch bag, guaranteeing quick pack and pleasurable hikes - we believe it is a great improvement for a graet product.
for more:
click here

December 2008: Spirit in motion-Karma Sport!!!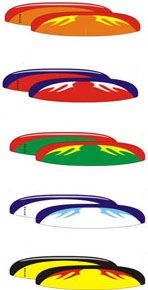 Karma SP is offered side by side with Karma. We felt that now is the time to launch an additional beginner / intermediate wing.
Karma SP has a lot in common with Karma's philosophy, but is aimed at pilots looking for something different - a glider with sharp, immediate response (handling inspired by Vista), a glider in line with the recent trend for a light, low weight, low pack volume wing - the result is KARMA SP.
With performance above the Karma and wings weight lighter by almost a kilo,
KARMA SP feels fresh, fun and reassuring. Equipped with all new FLEXON battens across the span on L/E, significantly lower line drag, made from new lightweight cloth - KARMA SP is our latest masterpiece for you to appreciate.
for more:
click here