The APCO Force was a ground breaking wing ahead of its time, which has set the standard for its Class.
With the all new FORCE II we have pushed the limits of bold and iconic design, while building on the pioneering values of the previous generation of Force.
It is a well rounded package which offers the best of both worlds, highly agile, fun wing together with never before seen cross country efficiency at high speeds.

ABS® - Automatic Balance System - Industry first, pioneered by APCO.
ABS® is a system which automatically and gradually pulls down the tip steering as you release the trimmers and push the speed bar. This action stabilizes the wing , cancelling roll movement, "planting" the pilot under the center of the canopy.

This outstanding roll stability gives the pilot the best and most efficient flying path at high speeds!
It is on cross country flights or when chasing down a friend that the ABS® system comes into play.
The ABS® system will get you from point A to B in the fastest way possible with no pilot input.
On trim speed, the system is not activated, allowing dynamic flight tuned for thrill and agility.
TAKE OFF - The FORCE II incorporates a second generation reflex profile which retains all the advantages of stability and safety, but improves lift and efficiency, allowing slower take-off and landing speed.
INFLATION - equipped with APCO's proven HIT valves and SRS system the FORCE II carries its inflating characteristics over from the original Force. No failed attempts when front or reverse launching.
SPEED
- The
FORCE II
enjoys more usable speed as the ABS system inspires confidence at high speed allowing the pilot to push through in cases they would not dare in the past.
CONSTRUCTION - Long lasting, yet Light - revised, careful blend of APCO's legendary double siliconised cloth together with other lighter types of material will guarantee many more hours of enjoyment from the FORCE II. Lines - all sheathed for maximum protection in all conditions.
CUTTING EDGE ENJOYMENT - the new FORCE II is redesigned to thrill and tuned for a more dynamic flying experience. Flying the boldest Force ever you will enjoy seductive strength which will carry you to the next level of flight. A perfect all round wing for any pilot looking for the natural choice.

Available in 3 sizes - FORCE II S, M and L - covering weight range from 75kg.-185kg.
FORCE II- Seductive Strength !!!
DESIGN FEATURES
ABS®

Automatic Balance System

OAA®

- One Action Acceleration - Integrated trimmers and speed system for one action simultaneous operation more »

Two Dimensional integrated brake configuration

combining tip steering and main brake all in one.

BBP®

Air Extreme Ball Bearing Pulleys - for easy and smooth speed bar operation »

HIT valve®

equipped on L/E for rock solid stability find out more »

Replaceable trim webbing and camet buckle

- for long-lasting trouble-free service
more »
Separated Tip steering for high speed operation
20mm. narrow profile riser for easier handling and reduced drag
Easy launch and handling SRS aided
Minimal drag, integrated APCO exclusive EHP® Embedded Hook In Points for unprecedented drag reduction
Advance diagonal rib structure
Redesigned Reflex profile for wider speed range and better efficiency.
All metal parts Stainless Steel or Aluminium
Split A risers with built-in safe, huge speed range
APCO legendary standard double coated siliconised cloth - Light and built to last
Butt Holes
Sheathed Superaramide® lines
Swivels on brake handles
Integral, built-in, Neodymium brake magnets
Extended speed range: 23 to 67+ km/h
Easy inflation, launch and landing
Universal riser + accelerator and trimmers to fit any paramotor frame
New color design - fresh and attractive
ABS®, OAA®, Flexon battens®, HIT Valves®, SRS® and EHP®-Embedded Hook In Points
are
exclusive APCO's innovations
, often imitated, never matched!!

TECHNICAL DATA
Small
Medium
Large
Product Code
22910
22920
22930
Cells
50
52
54
Area [m2]
22.5
24
25.5
Area (projected) [m2]
19
20.3
21.5
Span(incl. Stabiliser) [m]
11.2
11.8
12.4
Span (projected) [m]
8.85
9.34
9.81
Aspect Ratio
5.58
5.8
6.03
Aspect Ratio (projected)
4.12
4.29
4.48
Pilot Weight [kg]
(all up) free flight
70-100
90-120
105-140
Pilot Weight [kg]
(all up + paramotor/trike*)
75-120/140*
100-145/165*
125-165/185*
Canopy Weight [kg]
5.5
5.7
5.9
Root Cord m
2.43
2.43
2.43
Tip Chord [m]
0.43
0.43
0.43
Length of Lines on B [m]
6.74
7.14
7.54
Total Length of Lines [m]
389
407
424
* Higher wing loading advised when flying trike.

CERTIFICATION
The FORCE II has been thoroughly tested by us, here in our facility, and we have complete confidence in the wing.

PERFORMANCE
| | |
| --- | --- |
| V-min [km/h] | 22 |
| V-trim [km/h] | 38-41 |
| V-trim off [km/h] | 52-54 |
| V-max [km/h] | 67+ |
| Min Sink [m/s] at optimal wing loading | 1.2 m/sec |

COLOR OPTIONS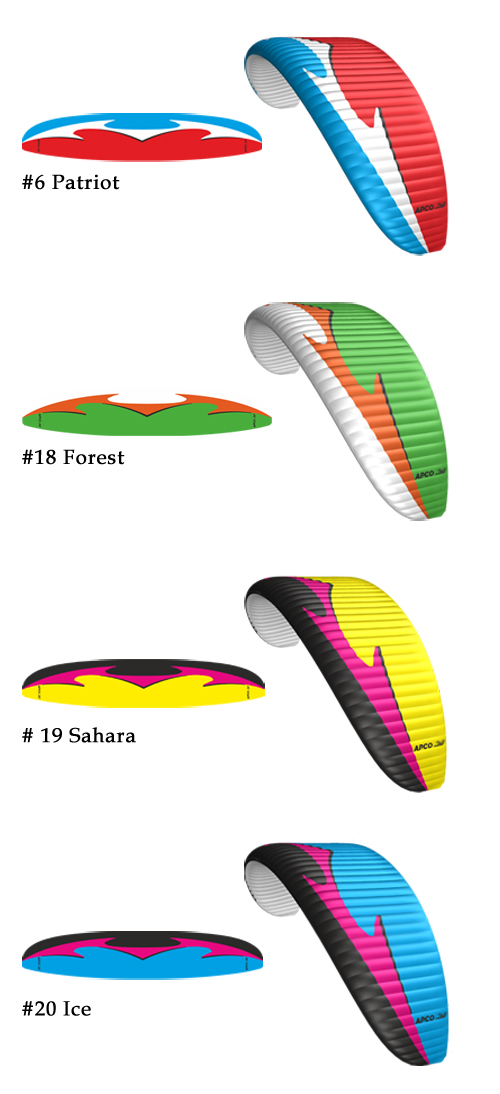 CONSTRUCTION AND MATERIALS
The wing uses the same long lasting cloth and fully sheathed durable lines as on previous APCO Force.
This is to guarantee its integrity for entire expanded lifespan of the wing. Nevertheless we made maximum effort to reduce the weight of the wing thanks to advanced solutions applied.
APCO is traditionally known for using materials and building techniques which offer double and triple lifespan over the expected.
The glider is made from tear resistant Ripstop Nylon cloth, which is P.U. coated to zero porosity and then siliconized to give the fabric high resistance to the elements. Different cloth is used for the top, bottom and ribs due to their different functions.
The lines are made of superaramid covered with a polyester sheath for protection against UV, wear and abrasion.
The bottom section of the brake lines is made of Polyester because of its better mechanical properties. The Carabiners that attach the lines to the risers are made of stainless steel.
| | |
| --- | --- |
| Fabric | |
| Sail Cloth | 32-42 g/m2 "Zero Porosity" Ripstop Nylon |
| L/E Reinforcement | FLEXON® batten system |
| Warranty | 3 years / 250 Hours |
| | | | |
| --- | --- | --- | --- |
| | Material | Diameter [mm] | Strength [kg] |
| Top | Dyneema | 1.0 | 90 |
| Mid/Stabilo | Superaramide | 1.2 | 120 |
| Bottom (A3/A5/B3/B5) | Superaramide | 1.8 | 230 |
| Bottom (A1/B1) | Superaramide | 1.9 | 320 |
| Bottom (C/D) | Superaramide | 1.5 | 150 |
| Brakes Cascade/ St. Top | Dyneema | 1.1 | 95 |
| Steering Line | Polyester | 2.0 | 85 |
Optional, FORCE II can be supplied in light clinch bag (instead of paragliding carry bag) (upon request Free of Charge)
Optional, FORCE II can be supplied with Wonder Bar (upon request - modest fee)
Former standard speed bar / stirrup discontinued.


OPTIONS AND ACCESSORIES

50011: Custom Colour
Would you like to personalize the look of your paraglider? All APCO gliders can be tailored to meet your color needs.


42477-42459: Glider Backpack or Light Clinch Bag
The wing is supplied in Paragliding bag as standard.
The Paragliding Bag can be replaced with Light Clinch bag for all wings on demand.


Carabiners:

80025: Paramotor container (size L) for Mayday 16/18/20/Bi, 16/18/20LT, 20SLT, GMD/GMD SLT
The best made, best looking, universal emergency parachute container designed to fit most frames, offering easy operation, safe deployment and convenient location.


50012: Custom Logo
Customise your glider by adding a personal or company logo.


43135: Wonder Bar
Speed bar with handsfree operation!


42458: Clinch Bag with Carry Straps / Converts into Backpack
Durable, Comfortable. Large Carry Bag for Quick packing of all your equipment. Holds unfolded glider, Harness, Helmet, etc.


42459: Light Clinch Bag
Durable, Comfortable.Made from LightRipstop material. Large Carry Bag for Quick packing of all your equipment. Holds unfolded glider, Harness, Helmet, etc. easily and quick.


50024: Riser Sock
Riser sock supplied as standard with each wing.


79999: Replacement Trim Webbing
Replacement webbing for riser trimmer


The ForceII comes in an ergonomic rucksack incl. an inner stuff bag, compression strap, spares kit, owner's manual and an industry first 3 yr/250 hr warranty - all as standard.
Speed bar comes as standard with solo wings.