LIFT EU II is APCO's full reflex wing dedicated to use with Trikes.
The LIFT EU II is the second generation of this wing and a big step up from the original Lift EU - improved in both look and feel!
The ABS2® system on the LIFT EU II is the second generation of this system which is now, even more user friendly.
ABS2® been further improved following our experience with Force II, does not require any special piloting and dramatically improves stability.
ABS2® is a system which automatically and gradually pulls down the tip steering as you release the back trimmers or pull the front trimmers. This action stabilizes the wing , cancelling roll movement, "planting" the trike under the center of the canopy.

This outstanding roll stability gives the pilot the best and most efficient flying path at high speeds! It is on cross country flights, or when chasing down a friend that the ABS2® system comes into play.
The ABS2® system will get you from point A to B in the fastest way possible with no pilot input. On trim speed, the system is not activated, allowing dynamic flight with improved handling and minimal brake pressure.
The LIFT EU II is really the best package any pilot can ask for with a combination of speed and roll stability making this wing a truly rare beast unique in its nature.
We are proud of the result, and sure it will continue to dominate the trike wings market.
The LIFT canopy is offered in 4 different versions to cover both European trikes as well as American PPC machines:

LIFT EU II 400 for European light to medium trikes (with narrow hook-in points and hand held brakes).
LIFT EU II 450 for European medium to heavy trikes (with narrow hook-in points and hand held brakes).
LIFT II 400 for American PPC (Powered parachute) light to medium frame (wide hook in points, leg steering configuration).
LIFT II 450 for American PPC medium to heavy trikes (wide hook-in points, leg steering configuration).

The American version of this wing specially designed for PPC machines is compatible with trikes based on wide spread between the hook-in points.
For more information on LIFT II 400/450 PPC, click here.
DESIGN FEATURES
SRS® aided - extremely low speed on take-off and landing more »

HIT valve®

equipped on leading edge, APCO unique feature for improved stability equipped for added safety in turbulent air - more »
Replaceable trim webbing and camet buckle long-lasting trouble-free service more »
Front trimmers - has the same functionality as speed-bar, adapted to tandem trike flying.
Rear trimmers for good speed range.
Built-in A-assist connection for easier inflation.
Tip steering for high speed operation
Reinforced, heavy duty built, for extended life span of wing.
Advance diagonal rib structure.
All metal parts Stainless Steel or Aluminium.
Split A risers for safe and wide speed range.
APCO legendary double coated siliconised cloth - built to last.
Butt Holes.
Heavy-duty Superaramide® lines.
Swivels on brake handles.

NBM

- Integral, built-in, Neodymium brake magnets with male/female connection

Auto-stable reflex profile for unshakable stability.
Extremely easy inflation, launch and landing.
LIFT EU II- LIFT your SPIRIT
Flight Characteristics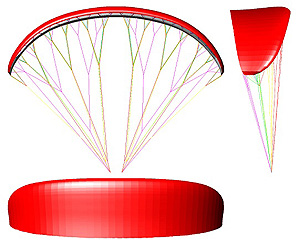 Launch - as easy as it gets
Take-off, straight-forward, no surprises
Landing - slower landing approach with a flawless, easy flare
Speed range - best in its class
Handling - easy and precise
Safety - solid as a rock at all speeds
Ground Handling - continuing the legacy of Lift
Flying - simply relaxing
Super light and responsive tip steering

TECHNICAL DATA
LIFT 400 EU II

LIFT 450 EU II

Product Codes
11565
11465
Cells
40
42
Area [m2]
39 (420 sq. ft.)
42 (450 sq. ft.)
Area (projected) [m2]
34.5
37.2
Span (incl. Stabiliser) [m]
13.8
14.6
Span (projected) [m]
11.52
12.2
Aspect Ratio
4.86
5.08
Aspect Ratio (projected)
3.83
4.00

Pilot Weight
(All up + Trike paramotor) [kg]

160-300
230-400
Minimum Recommended
Engine thrust [kgf]
115
130
Canopy Weight [kg]
8.4
9.3

Root Chord [m]

3.4
3.4

Tip Chord [m]

0.6

0.6

Length of Lines on B [m]

7.94
8.73
Total length of line used [m]
330
365
Riser specification
Click here for hook-up points spread distance
Warning: any different setup is outside this frame of certification for the wing

CERTIFICATION
EN 926-1 / DGAC
Please Note:
The
LIFT EU
is designed for European style trikes,
with narrow spread hook in points 50-65 cm. And hand held brakes.

PERFORMANCE
| | |
| --- | --- |
| V-min [km/h] | 27km/h |
| V-trim (-) / V-trim (0) | 41/46 km/h |
| V- rear trim off | 55-60 km/h |
| V-max - front trim on, rear off | 67+ km/h |
| Min Sink ( at optimum wing loading) | 1.3 m/s |

COLOR OPTIONS
LIFT EU II is dressed in 3 distinctive color designs, following the latest trend in APCO. The bottom surface produced from non-siliconised cloth to allow for advertising and logo application.
| | |
| --- | --- |
| Option Number | Color Design |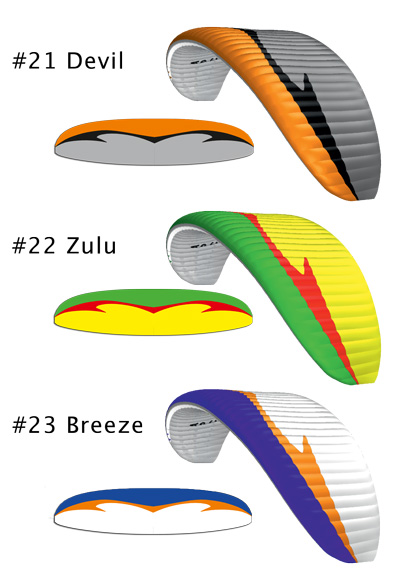 CONSTRUCTION AND MATERIALS
| | |
| --- | --- |
| Fabric | |
| Sail Cloth | 42 g/m2 "Zero Porosity" Ripstop Nylon |
| Rib Reinforcement | FLEXON® batten system |
| Warranty | 3 years / 250 Hours (Subject to the stated conditions) |
Material
Diameter [mm]
Strength [kg]
Top ; st top
Super Aramid
1.5
150
Mid
Super Aramid
1.8
230
Bottom A;B
Super Aramid
2.5
450

Bottom

C;St
Super Aramid
1.9
320
Brake Cascades;StBr
Dyneema
1.1
95
Steering Line
Dyneema
2.3
230

OPTIONS AND ACCESSORIES

50012: Custom Logo
Customise your glider by adding a personal or company logo.


50011: Custom Colour
Would you like to personalize the look of your paraglider? All APCO gliders can be tailored to meet your color needs.


42477-42459: Glider Backpack or Light Clinch Bag
The wing is supplied in Paragliding bag as standard.
The Paragliding Bag can be replaced with Light Clinch bag for all wings on demand.


Carabiners:

50024: Riser Sock
Riser sock supplied as standard with each wing.


79999: Replacement Trim Webbing
Replacement webbing for riser trimmer


The Lift EU2 comes in an ergonomic rucksack incl. an inner stuff bag, compression strap, spares kit, owner's manual and an industry first 3 yr/250 hr warranty - all as standard.
Speed bar comes as standard with solo wings.