The Game 42 is the kind of wing that will be talked about for years to come, truly remarkable. An all new design incorporating smart internal structure and our Automatic Pressurising Profile, producing wing characteristics that will surprise even the most experienced pilots.

Tandem flying is always a thrill for a first time passenger, but with this wing the real game is for the pilot! The Game 42 feels much more like a single wing than a tandem.
When flying you will soon forget it is a tandem over your head as this thermalling machine spirals you up to the top of the stack - and all of this with a friend on board.

TAKE OFF, front launch or reverse is always easy with the APP profile (shark nose) insuring constant pressure and high lift. The wing will rise slowly and controllably overhead allowing time to glance up and take-off even with the most difficult passengers. LANDING is a breeze as the Game 42 is incredibly stall resistant and flaring will slow you down almost to a standstill!

THERMALLING - this is where the Game 42 really shines. The LOW BRAKE PRESSURE and the canopy's precise input will whisper to the pilot exactly where the core of the thermal is and you will find yourself preferring the Game 42 over your single wing for XC days.

PERFORMANCE of the Game 42 is among the best out there. Sounds too good to be true - check it yourself!

PILOT FEEDBACK is phenomenal, the glider was thoroughly tested by professional tandem pilots and received nothing but praise ! Judging by the feedback, we have succeeded in creating one of the best tandem wings ever made.


CONSTRUCTION:
Longevity of tandem wing is one of the main parameters considered by tandem pilots. Apco's well known Gelvenor cloth has been proven over many years as the best there is for durability and longevity.

Revised, careful blend of Gelvenor and other lighter types of cloth and materials will guarantee many more hours of service for the Game 42 .

We at APCO believe that on Game 42 commercial pilots will be able to put in significantly more hours before trashing, compared to market standard - making each hour of flight significantly less costly (APCO wings are known for their sturdy, durable construction and this wing will continue the legacy)
Game 42 is equally great for both free flying and for paramotor tandem flying.
It especially excels when flying under power. Its outstanding performance and short take-off run allow its tandem use even with the smallest and weakest engines, making it the #1 choice for many light tandem trike pilots.
Game 42 is certified in EN-B, LTF B Class
APCO also performed thorough in-house intensive test flight sequence to verify that the wing is in-line with expectations on every parameter.
DESIGN FEATURES
APP

® Automatic Pressurizing Profile (shark nose) insures constant and even internal pressure more »
Leech Line Cleat for locking Big Ears or the brake line on long thermals more »
T bar brake handle for additional hand position more »
Mini ribs at trailing edge for better performance(pioneered by APCO 20 years ago!!)
Smart internal structure with redesigned tension bridge system.
Diagonal rib structure
All metal parts Stainless Steel or Aluminium
Advanced shape planform more »
Fully protected sheathed Technora lines
Double coated siliconised cloth, covered by 3 Year / 250 Hour warranty
Brake handle with Plastic embedded neodynium magnets and anti-twist swivel more »
Butt hole for easy cleaning more »
Crown shape tip reinforcement more »
Distinctive color designs more »
Improved, more responsive handling
Light brake pressure with accurate and precise effective brakes
Reduced wing weight
Wide speed range (riser with large certified trim tab range)
Perfect launch with closed and open trims in any wind condition
For best flying experience we recommend to couple the wing with Apco's Tandem Pilot and Passenger harness more »
For technology web page – click here »

TECHNICAL DATA
GAME 42
Product Code
26100
Cells
52
Area [m2]
42.5
Area (projected) [m2]
37.1
Span [m] (incl. Stabiliser)
15.1
Span (projected) [m]
11.9
Aspect Ratio
5.4
Aspect Ratio (projected)
3.93
Take off Weight (all up) [kg]
*Tested in-house
*110/140-230
Pilot Weight (all up + paramotor unit) [kg]
Up to 326
Canopy Weight [kg]
8.4
Root Chord [m]
3.42
Tip Chord [m]
0.78

Length of Lines on B [m]

9.1
Total Length of Lines [m]
457

CERTIFICATION

In addition the wing was thoroughly tested in-house for weight of 110[Kg]. When trimmers are between natural (red marking, all risers level) to open, the Game 42 is with-in the frame of EN.B certification!
These tests were made following requests by customers who wanted authorization to fly Game 42 below minimum weight range

PERFORMANCE
V-min @ optimum wing load
23 km/h
V-trim

@ optimum wing load

[km/h]
38-39 km/h
V-max

@ optimum wing load

[km/h]
46 km/h
Min Sink

@ optimum wing load

[m/s]
1.1 m/s

COLOR OPTIONS
GAME 42 is dressed in 3 distinctive color designs, following the latest trend in APCO. The bottom surface produced from non-siliconised cloth to allow for advertising and logo application.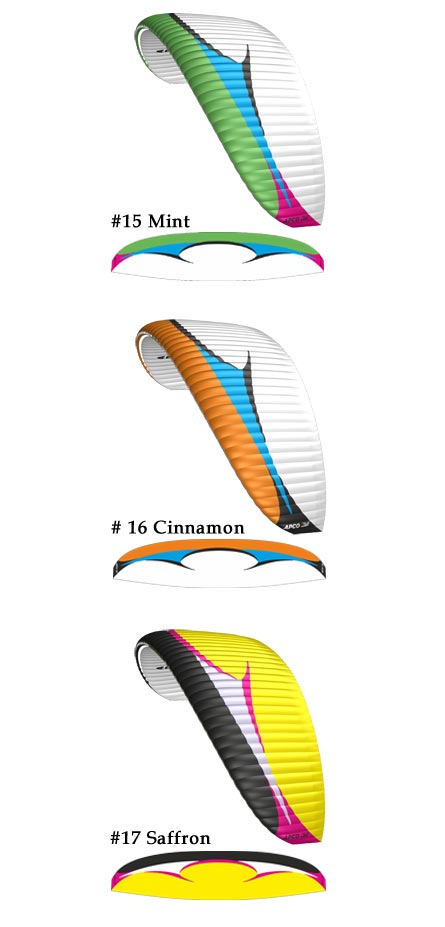 CONSTRUCTION AND MATERIALS
Materials
The wing uses the same long lasting cloth and fully sheathed durable lines as on previous APCO tandem wings. This is to guarantee its integrity for entire expanded lifespan of the wing. Nevertheless we made maximum effort to reduce the weight of the wing thanks to advanced solutions applied. APCO is traditionally known for using materials and building techniques which offer double and triple lifespan over the expected (particularly important to professional tandem pilots)

The glider is made from tear resistant Ripstop Nylon cloth, which is P.U. coated to zero porosity and then siliconized to give the fabric high resistance to the elements. Different cloth is used for the top, bottom and ribs due to their different functions. The lines are made of superaramid covered with a polyester sheath for protection against UV, wear and abrasion. The bottom section of the brake lines is made of Dyneema because of its better mechanical properties. The Carabiners that attach the lines to the risers are made of stainless steel.


| | |
| --- | --- |
| Fabric | |
| Sail Cloth | 42 gr/m2 "Zero Porosity" Ripstop Nylon |
| Rib Reinforcement | FLEXON® batten system |
| Warranty | 3 years / 250 Hours |
Material
Diameter [mm]
Strength [kg]
Top Floor, St Top
Dyneema
1.1
95
Middle
Superaramide
1.8
230
Lower A1;B1
Superaramide
2.5
450
Lower A3,5; B3,5; C; D; St
Superaramide
1.9
320
Brake Cascades:
Upper
Dyneema
1.1
95
Lower
Dyneema
2.0
230

OPTIONS AND ACCESSORIES

50012: Custom Logo
Customise your glider by adding a personal or company logo.


57006: Tandem Spreader Bars
Redesigned Spreader bars to attach a second harness to your tandem paraglider incorporating An automatic B-stall mechanism integrated into the spreader bar


50011: Custom Colour
Would you like to personalize the look of your paraglider? All APCO gliders can be tailored to meet your color needs.


42477-42459: Glider Backpack or Light Clinch Bag
The wing is supplied in Paragliding bag as standard.
The Paragliding Bag can be replaced with Light Clinch bag for all wings on demand.


Carabiners:

50024: Riser Sock
Riser sock supplied as standard with each wing.


79999: Replacement Trim Webbing
Replacement webbing for riser trimmer


The Game42 comes in an ergonomic rucksack incl. an inner stuff bag, compression strap, spares kit, owner's manual and an industry first 3 yr/250 hr warranty - all as standard.
Speed bar comes as standard with solo wings.