SPARK Harness


SPARK - the latest, most sophisticated sports harness on the APCO range, has been launched by our R&D team.
The SPARK stands out for its comfort, finish and clean lines. The concept of SPARK is based on latest harness design principles, taking APCO technology to new heights.
Now even more comfortable, more sophisticated and sleeker than any other harness on our range.
SPARK shares the philosophy and design approach with rest of our harnesses.
SPARK will appeal to pilots who prefer a classic harness, offering total comfort, maximum security, blended with stylish design and loads of extras.
The pilot protection environment of SPARK shares the same elements as EDGE, including full airfoam backprotector with backplate and side protectors, but takes pilot safety protection even further.


DESIGN FEATURES
Molded clean shape,

stylish outline »

No wrinkles, sagging or baggy look
Low drag - Narrow, slim profile
Easy to pack - low pack volume
Ultimate comfort and protection 15cm. airfoam + 5cm. airmesh
Emergency parachute compartment under the seat - redesigned, simplified, easy to understand closing
Deployment handle - highly visible and accessible, perfect spot on the side - cable based (as for last 20 years on all APCO deployment systems - suddenly latest fashion with rest of the brands)
Carefully redesigned webbing system for perfect blend of comfort and weight shift feedback
foolproof chest T-lock system, click here for complete webbing structure »
Optimal back support with APCO exclusive load spreading semi-rigid elements integrated into

back of the harness »

Versatile accelerator system with floating seatplate
Optional side protectors - high energy absorbing polystyrene
Plenty of space for storage in back pocket
Ready to accept hook for ballast or radio
Built-in effective ABS system for adjustment of weight shift control
APCO unique weight shift sensitivity adjuster for the seatplate
Plenty of pockets (side internal, external, bottom + ample back pocket)

click for more »

Available in 3 sizes - ranging from pilots of 155cm. 55kg. to over 2m. and 100kg.
(S/M, L/XL and XXL)

click for Sizing Table »

Optional foot steerup for added comfort and supine flying
Partial front neoprene closure
Heavy duty, scratch resistant bottom cloth
Additional internal document pocket in the back
Stylish, thick air mesh lining for breathability and comfort at the back
Airmesh pillows for added support and hip comfort, combined with 3D airmesh shoulders
Ready for APCO unique Wonder Bar »
Ready for Ballast and drinking installation
+ much, much more......

PILOT PROTECTION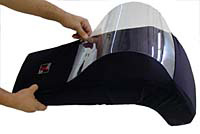 Foam Protector and Lexan Sheet
The
SPARK
has a pilot protection system, combining the usual airfoam type protector with a lexan sheet (47143) which aids in spreading the load over the absorbing area of the airfoam and a Polystyrene side impact protector which offers the maximum protection available to a paraglider pilot today.
Test results conducted by DHV confirm that our standard 15cm Airfoam protector is fully in line with DHV requirements when used in combination with
SPARK
type harness.
Side Protectors
It is fitted by opening the zip running along the bottom of the harness, below the seat board, and connecting it to two rubber bands through the slits made in the side protector (make sure to put the rubber band through the slit from the flat side of the side protector to the round side of it). Slide the side protector to its place and close the zip running along the bottom of the harness.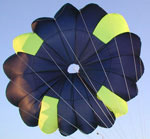 SPARK
has an integrated emergency parachute compartment, designed to the standard specifications.
It is ideally suited to take the range of APCO Mayday parachutes which have proven themselves time and time again, saving hundreds of pilots over the years

COLOR OPTIONS
| | |
| --- | --- |
| Option Number | Color Design |
| 1. Silver / Red | |
| 2. Yellow / Royal | |
| 3. Red / White | |
| 4. Royal / Red | |

PRODUCT CODES
43100

- SPARK S/M

43200

- SPARK L/XL

43300

- SPARK XXL

OPTIONS AND ACCESSORIES
sold separately

34019G: Gate Lock Carabiner
Attaches your harness to the risers of your glider. Read about the
Certification »
(
Not included
with Harnesses, must be ordered separately)

A4901-3T: Twist Lock Carabiner
At a mere 60gr. This state of the art carabiner is carefully designed and beautifully finished to offer a safe, user friendly operation for paramotor and free flying pilots.


A4901L-2T: Twist Lock Carabiner
This larger / stronger carabiner is specially designed and finished to offer safe, user friendly alternative for paramotor and tandem pilots.


43135: Wonder Bar
Speed bar with handsfree operation!


46160: Side Protectors (set of 2)
Polystyrene molded protector (EPS) for lateral pilot protection


42150: Airfoam Protector
Test results conducted by the DHV confirm that our Airfoam protector is fully in line with DHV requirements when used in combination with Edge type harness.

47143: Lexan Plate for Airfoam Protector

80053: Flight Panel (Deck) - Top part
3 parts inovative cockpit from APCO


80054: Bottom Emergency parachute Front container - flight deck compatible
zipped on emergency parachute container


80052: Bottom Ballast Bag - flight deck compatible, zipped on!
Designed to hold APCO's 9L Liquipak inner ballast bag.
(ordered separately :: code:21000)


44015: Foot Rest
Really useful for improving your aerodynamic shape, improving weight shifting and taking the load off your feet



44000: Ballast Bag -
Bottom ballast for harness, fill up to 8 kgs and doubles as an hydration pack. Designed to be placed in bottom or back harness compartment. Supplied without item No 21000 (inner water bag).

44008S: Radio Pocket Small
Convinient and safe casing for your radio
Dimensions: 170 x 60 x 30 mm

44008L: Radio Pocket Large
Convinient and safe casing for your radio
Dimensions: 210 x 80 x 40 mm

44120T: Internal T-Type Deployment Bag for Loop Through Handle
Universal deployment bag. Fits all current range APCO harnesses with integrated emergency parachute compartment.

46200: Deployment Handle
For Finesse Top and Edge