First Harness III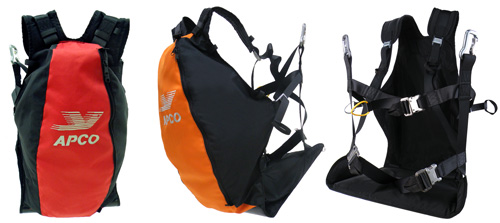 click to Enlarge
First - A simple and uncluttered harness for teaching or soaring flights. ABS control, and enough adjustment to fit all but the largest and very smallest of pilots. Strong, lightweight and durable. The classic starter harness. Also used for Bivouac and high mountain flights.
DESIGN FEATURES
APCO quick lock buckles are standard
Light, simple harness - only 1.6 Kg (without seatplate), 2.145 Kg (with seatplate)
One size fits all - with zipper expander (zipper closed S/M size, zipper open L/XL size)
Strong and durable fabric for extreme use and long life
2 stage seat plate for added comfort
Ideal for schools and ground handling
Large rear storage compartment
Compatible with externally mounted Mayday rescue system (any)

PILOT PROTECTION
It is possible to fit a side or front mounted reserve parachute, which can be connected to the reserve attachment points on the shoulders of the harness.

COLOR OPTIONS
First harness, available in Black with contrasting color for the back - typically Orange, Red, Yellow, Blue, (delivered according to stock)


click to Enlarge

PRODUCT CODES
48133

– First Harness, One size fits all - with zipper expander (zipper closed S/M size, zipper open L/XL size)

OPTIONS AND ACCESSORIES
sold separately

34019G: Gate Lock Carabiner
Attaches your harness to the risers of your glider. Read about the
Certification »
(
Not included
with Harnesses, must be ordered separately)

A4901-3T: Twist Lock Carabiner
At a mere 60gr. This state of the art carabiner is carefully designed and beautifully finished to offer a safe, user friendly operation for paramotor and free flying pilots.


A4901L-2T: Twist Lock Carabiner
This larger / stronger carabiner is specially designed and finished to offer safe, user friendly alternative for paramotor and tandem pilots.


S4903-2T: Forged Stainless Steel Twist Lock Carabiner
2T (Double safety) Carabiner 2,200kg MBL* Connects up to 40mm. webbing.


80053: Flight Panel (Deck) - Top part
3 parts inovative cockpit from APCO


80054: Bottom Emergency parachute Front container - flight deck compatible
zipped on emergency parachute container


80052: Bottom Ballast Bag - flight deck compatible, zipped on!
Designed to hold APCO's 9L Liquipak inner ballast bag.
(ordered separately :: code:21000)


44008s: Radio Pocket Small
Convinient and safe casing for your radio
Dimensions: 170 x 60 x 30 mm

80015: Mayday Front Container