Finesse Plus 2006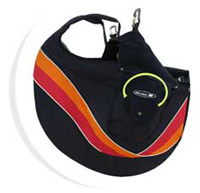 As its name suggests, harnesses is an evolution from our previous model of Finesse Top. The harness has been completely redesigned, only the webbing system and emergency parachute compartment are unchanged to allow for the harness to continue carrying DHV certification (Finesse holds DHV certification).
The main body and back pocket have been completely redesigned and dressed in an attractive color design.
The harnesses have lost the heavy lexan plate and are now much lighter and less bulky, but with the same storage volume. It also has a much smaller side profile for reduced drag.
Finesse Plus 2006 -with Right-Side Integrated Emergency Compartment
DESIGN FEATURES
Webbing structure "get up system" - same as on previous model Finesse
Lower cut side profile for slimmer, more aerodynamic shape
No hard plates, low bulk, low pack volume, but large storage space
Bottom reinforced with friction resistant cloth
Accepts APCO's standard steerup, footrest, WonderBar
Front neoprenne fairing for improved aerodynamics and comfort - optional
Numerous pockets and storage compartments
Compatable with APCO standard accessories
Accepts airfoam protectors and side protectors for maximum protection
Fool-poof deployment system with clear and visible deployment handle
Modularity and adjustments are the same as for Finesse

PILOT PROTECTION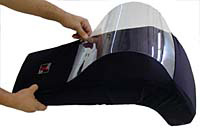 Foam Protector and Lexan Sheet
The Finesse Plus 2006 has a pilot protection system, combining the usual airfoam type protector with a lexan sheet (47143) which aids in spreading the load over the absorbing area of the airfoam and a Polystyrene side impact protector which offers the maximum protection available to a paraglider pilot today.

Side Protectors
It is fitted by opening the secondary zip located in the Main Back Compartment, and connecting it to two rubber bands through the slits made in the side protector (make sure to put the rubber band through the slit from the flat side of the side protector to the round side of it).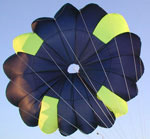 COLOR OPTIONS
| | |
| --- | --- |
| Option Number | Color Design |
| 1. Black - Turquoise/Blue Wave | |
| 2. Black - Orange / Red Wave | |

PRODUCT CODES
48200

- Finesse Plus 2006 S/M

48300

- Finesse Plus 2006 L/XL

OPTIONS AND ACCESSORIES
sold separately

34019G: Gate Lock Carabiner
Attaches your harness to the risers of your glider. Read about the
Certification »
(
Not included
with Harnesses, must be ordered separately)

A4901-3T: Twist Lock Carabiner
At a mere 60gr. This state of the art carabiner is carefully designed and beautifully finished to offer a safe, user friendly operation for paramotor and free flying pilots.


A4901L-2T: Twist Lock Carabiner
This larger / stronger carabiner is specially designed and finished to offer safe, user friendly alternative for paramotor and tandem pilots.


80050A: Flight Panel (Deck)
Inovative cockpit from APCO


43135: Wonder Bar
Speed bar with handsfree operation!


42150: Airfoam Protector
Test results conducted by the DHV confirm that our Airfoam protector is fully in line with DHV requirements when used in combination with Edge type harness.

47160L: Side Protector Left (1 piece)
Polystryrene mould (EPS) for lateral pilot protection
For Finesse Plus

47143: Lexan Plate for Airfoam Protector

47170: Neoprene Chest Windbreaker
Highly recommended for use in cold weather in order to keep warm also improves your aerodynamic shape.
For Finesse Top and Plus

44015: Foot Rest
Really useful for improving your aerodynamic shape, improving weight shifting and taking the load off your feet



44000: Ballast Bag -
Bottom ballast for harness, fill up to 8 kgs and doubles as an hydration pack. Designed to be placed in bottom or back harness compartment. Supplied without item No 21000 (inner water bag).

44008S: Radio Pocket Small
Convinient and safe casing for your radio
Dimensions: 170 x 60 x 30 mm

44008L: Radio Pocket Large
Convinient and safe casing for your radio
Dimensions: 210 x 80 x 40 mm

44120T: Internal T-Type Deployment Bag for Loop Through Handle
Universal deployment bag. Fits all current range APCO harnesses with integrated emergency parachute compartment.

46122: Deployment Handle
For Finesse Plus