BLADE Harness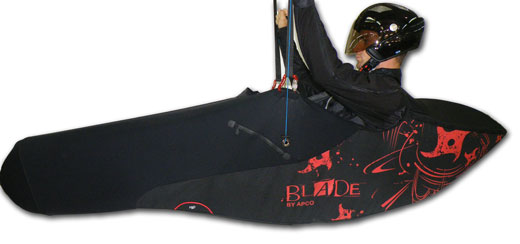 click to Enlarge
The BLADE is APCO's first competition harness.
It is the top of our line, completing the already extensive harness range (containing 6 different harness models).

For many years competition harness was not part of our line. So when deciding to launch such a harness, we made sure it would be outstanding in its performance: safety, drag reduction , quality, and comfort
BLADE is a pod harness, designed and aimed at competition pilots, but equally well suited to cross country and experienced recreational pilots. It shares the same design philosophy as the rest of APCO's harness range.
The BLADE stands out for its comfort, finish and clean lines. The drag reduction of BLADE is among the best in its class. The weight of the BLADE harness is on a par or lighter than most popular competition harnesses available today, but without compromising on its durability or safety.
BLADE will appeal to pilots who prefer a classic pod harness, offering total comfort, maximum security, world class drag saving, blended with stylish design and loads of extras.
DESIGN FEATURES
Fairing front cone is filled with innovative memory cell hollow fiber, insuring minimum weight and perfect shape at all times, together with the ability to be compactly packed for storage
The fairing skirt is from 1mm. neoprenne which contributes to healthy weight reduction of the harness
The supine pilot position in the Blade is designed to prevent abdominal and neck strain, allowing for maximum comfort on long flights
The harness/pod length is adjustable for perfect fit
The emergency parachute container is located behind the back for further drag reduction with highly visible, easily accessible deployment handle
An adjustable length 3 step tapered speed bar is fully integrated into the Blade with the floating seatplate
Two large side pockets and one front pocket are accessible during flight
Large rear storage compartment with additional clip on wallet pocket
Detachable front instrument cockpit
Shoulder connection points for steerable emergency parachute connection
APCO standard ballast bag can be stored under the seat in a specially designed compartment for ideal C.G point during flight
Molded, clean lines, stylish shape
Ultra low drag narrow slim profile
Wrinkle free, no sagging or baggy look
Simplified, easy to understand maintenance
Deployment handle cable based - system used for more than 20 years at APCO, now the latest fashion with the rest of the brands too
Webbing system designed for perfect blend of comfort and weight shift feedback, with get-up buckle system for further weight reduction and simplicity
Optimal back support with APCO exclusive load bearing semi-rigid elements integrated into the back of the harness
Ample storage space, plenty of pockets
Built in loop on the shoulder strap for drinking house or radio connection
3 sizes - covering heights ranging from 155cm.-195cm.
Heavy duty, scratch resistant bottom cloth
Stylish thick airmesh lining for breathability and comfort on your back, combined with 3D airmesh shoulders
Neoprene covered hook in points
The lightest on the market, below 7kg. (complete)
Optional Leg Spacer to insure perfect fit for every pilot, we offer 5cm. thick leg spacer
Optional Ratchet Pulley Ronstan ball bearing ratchet pulleys available as an option
It is an endless list of features - we have to decide where to stop...!
HARNESS WEIGHT
| | |
| --- | --- |
| Weight of Blade | - 5.4 kg. (including 3 step accelerator) |
| Standard seatplate | - 0.6 kg. |
| Standard leg plate | - 0.3 kg. |
| Airfoam Protector | - 0.5 kg. |
| Total | - 6.8 kg. |

PILOT PROTECTION
The pilot protection environment of
BLADE
shares the same elements as the rest of our range, including airfoam protector and integrated emergency parachute compartment.

Foam Protector
The
BLADE
has a pilot protection system, incorporating our usual airfoam type protector, providing maximum protection to the pilot.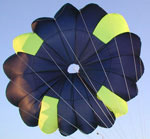 BLADE
has an integrated emergency parachute compartment, designed to the standard specifications.
It is ideally suited to take the range of APCO Mayday parachutes, Including the
Guided MayDay
, which have proven themselves time and time again, saving hundreds of pilots over the years

COLOR OPTIONS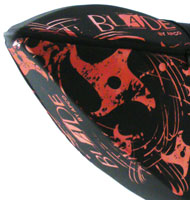 The BLADE harness is available in one color design with Black body.

PRODUCT CODES
44100

- BLADE S/M

44200

- BLADE L/XL

44300

- BLADE XXL
BLADE supplied as standard complete with seatplate, leg plate, 3 step integrated speed bar

OPTIONS AND ACCESSORIES
sold separately

80053: Flight Panel (Deck) - Top part
3 parts inovative cockpit from APCO


80054: Bottom Emergency parachute Front container - flight deck compatible
zipped on emergency parachute container


80052: Bottom Ballast Bag - flight deck compatible, zipped on!
Designed to hold APCO's 9L Liquipak inner ballast bag.
(ordered separately :: code:21000)


34019G: Gate Lock Carabiner
Attaches your harness to the risers of your glider. Read about the
Certification »
(
Not included
with Harnesses, must be ordered separately)

A4901-3T: Twist Lock Carabiner
At a mere 60gr. This state of the art carabiner is carefully designed and beautifully finished to offer a safe, user friendly operation for paramotor and free flying pilots.


A4901L-2T: Twist Lock Carabiner
This larger / stronger carabiner is specially designed and finished to offer safe, user friendly alternative for paramotor and tandem pilots.


44000: Ballast Bag -
Bottom ballast for harness, fill up to 8 kgs and doubles as an hydration pack. Designed to be placed in bottom or back harness compartment. Supplied without item No 21000 (inner water bag).

44003: Radio Pocket one size
Convenient and safe casing for your radio
Dimensions: 170 x 60 x 30 mm

44008L: Radio Pocket Large
Convinient and safe casing for your radio
Dimensions: 210 x 80 x 40 mm

44120T: Internal T-Type Deployment Bag for Loop Through Handle
Universal deployment bag. Fits all current range APCO harnesses with integrated emergency parachute compartment.