High Rise Emergency Chute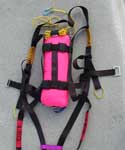 The Rescue Chute was developed after the tragic events of September 11 2001 in New York, in an attempt to provide a last chance of possible escape and rescue from skyscrapers and tall buildings.
In case of emergency, it offers an ultimate alternative to rescue people from buildings in case of fire, terrorist attack etc. when no other way of exiting the building is possible, and people are under clear and present danger. The chute presents a last chance resort of life saving in an extremely dangerous emergency situation.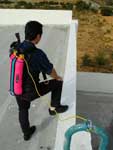 The rescue chutes are of a flat circular pull-down apex design. This means that in addition to the conventional lines around the perimeter (skirt), there is a single line in the center pulling the apex down to the level of the skirt running from the apex to the bridle. The main line attachments to the skirt are reinforced with V-Tabs, and the skirt and apex skirt are reinforced with 1" tape, and sewn with a four needle machine for an exact finish. This proven design offers the best combination of sink-rate, deployment speed, packing size and weight.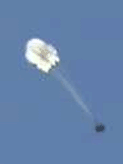 The rescue system consists of a harness with an Excecutive Chute container intergrated. The use of the system does not require training. All that is required is a simple demonstration of the use of harness and chute. The rescue system will deploy automatically after 25m of free fall. The chute will provide a descent of approx. 5.5m/s with a person weighing 100kg.
Additional possible applications include personal back-up and r escue of maintenance and construction workers on high-rise structures, towers, chimneys, cranes and for window cleaners.
The Mayday 20 passing the high speed (160daN at 50 knots) deployment test
SPECIFICATIONS
| | |
| --- | --- |
| Type | Rescue Chute 18 |
| Area [m2] | 30 |
| Gores | 18 |
| Line Length [mm] | 5150 |
| Weight (incl. harness) [kg] | 2.5 |
| Harness | Webbing structure, with 1-point chest locking buckle |
| Sink Rate | 5.4 |
| Certification (canopy) | SHV |
| Deployment System | Static line with deployment sleeve |
| Min heigt clearance [m] | 30 |

MATERIALS & CONSTRUCTION
| | |
| --- | --- |
| Apex Lines | 180 kg Nylon |
| Apex Reinforcement Tape | Mil T5038-3 1" |
| Gore Reinforcement Tape | Mil T5038-3 5/8" |
| Gore Fabric | F111 or equal |
| Skirt Reinforcement Tape | Mil T5038-3 1" |
| V-Tabs | Mil W 4088-1 9/16" |
| Suspension Lines | 180 kg Nylon |
| Bridal Webbing | 6000lb UV Treated 1" |
| Center (apex) Line | 1500 lb Nylon Cord |