The new Thrust HP project mission was to improve the already popular Thrust HP into an even greater wing.
The Thrust HP has claimed many fans worldwide and was received exceptionally well by pilots and media. It is indeed our best paramotor wing - and now even better!!
Improvements are based on accumulated pilot feedback.
The new HP shares the philosophy of THRUST HP, but has incorporated new cutting edge materials and the latest technological innovations to make it a better performing, longer lasting, easier handling, lighter and safer wing.
Thrust HP combines the advantages of the Thrust at low speeds with the latest Reflex profile technology in high speeds to yield a specialized paramotor wing that would offer true high performance yet retain the friendliness and safety of the Thrust.
The Thrust HP employs a unique patent-pending Automatic Stall Recovery System (SRS) that allows the pilot fly and launch at amazingly low speed despite the high wing loading. It prevents the wing and pilot from stalling at critical angle of attacks and aids in automatic recovery in case of a stall.
New designs features were incorporated into the wing such as New generation
FLEXON ® batten system, new lightweight cloth and stabilo steering examplify APCO's uncompromising attention to detail. The Thrust HP is a versatile high performance paramotor wing for pilots who wish to stretch their flight envelope and keep their smile in the air.

Thrust HP - When there's a need for speed
DESIGN FEATURES
Stabilo streering for high speed handling - EN approved

Stabilo steering

New lightweight Gelvenor double coated siliconised cloth
Diagonal rib structure - exclusive to APCO
Split A riser
All metal parts Stainless Steel or Aluminium
Eliptical planform
Butt Holes
Heavy-duty Superaramide® lines
Heavy-duty Swivels on brake handles
Integral, built-in, Neodymium brake magnets

HIT valve®

equipped on L/E for rock solid stability find out more »
Extended speed range: 23 to 60+ km/h
Improved fuel economy due to minimal sink
Reflex airfoil for improved high-speed performance
Easy inflation, launch and landing
Friendly high performance wing
Built-in passive safety
Universal riser + accelerator and trimmers to fit any paramotor frame
Top surface color design – fresh and attractive
THRUST HP is now made from the new lightweight Gelvenor siliconised cloth, shedding 500gr. of its weight.
New, sophisticated FLEXON® batten system incorporated (see below) - replacing mylar reinforcement on L/E - which saves another 300gr from the weight of the glider.

Thrust HP is now lighter by almost one kilo, thanks to the new cloth and sophisticated FLEXON® system -making it one of the lightest wings in its Class - incredible 5.4kg for S and 5.8kg for M. Now it is an even safer and easier launching wing.

New FLEXON® batten system is virtually indestructable and will guarantee evenly excellent launch and performance over the lifespan of the glider
THRUST HP now the no.1 easiest launching, lightest paramotor wing around, without sacrificing any of its legendary durability.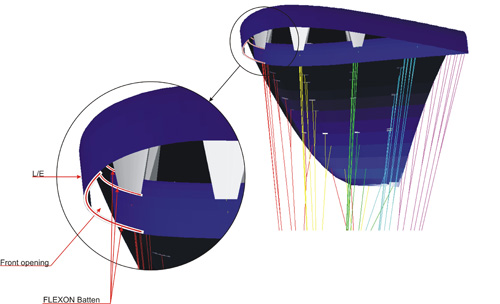 TECHNICAL DATA
| | | |
| --- | --- | --- |
| | Small | Medium |
| Product Code | 17100 | 17200 |
| Cells | 41 | 42 |
| Area [m2] | 26.2 | 27.5 |
| Area (projected) [m2] | 22.2 | 23.5 |
| Span [m] | 11.3 | 11.6 |
| Span (projected) [m] | 9.05 | 9.35 |
| Aspect Ratio | 4.87 | 4.90 |
| Aspect Ratio (projected) | 3.69 | 3.72 |
| Pilot Weight (all up + paramotor unit) [kg] | 70-140 | 100-165 |
| Canopy Weight [kg] | 5.4 | 5.8 |
| Tip Chord [m] | 0.58 | 0.58 |
| Length of Lines on B [m] | 6.4 | 6.6 |
| Total Length of Lines [m] | 399 | 407 |

CERTIFICATION
In order to prove the safety of Thrust HP , we cooperated with Air Turquoise - official EN certification laboratory to conduct a new ground breaking test sequence for all parameters of safety as a paramotor unit, in addition to standard paragliding certification - the tests confirmed that the reflex hybrid technology of Thrust HP actually improves the safety of the wing on higher speeds or with trimmers released.
During the test, load on A and B risers were measured at different angle of attack at different speeds and it was proved that the load rises on A and B risers with increased speed, making collapses more difficult, contributing to the stability. Click here to view results

PERFORMANCE
V-min [km/h]
22
V-trim [km/h]
38-40
V-trim off [km/h]
45-47
V-max [km/h]
60+
Min Sink [m/s] at
optimal wing loading
1.2

COLOR OPTIONS
| | |
| --- | --- |
| Option Number | Color Design |
| 1. Red | |
| 2. Yellow | |
| 3. Blue | |
| 4. Batman | |
| 5. Tangerine | |
| 6. Patriot | |
| 7. Brasileira | |
| 8. Lagoon | |

CONSTRUCTION AND MATERIALS
Materials
The glider is made from tear resistant Ripstop Nylon cloth, which is P.U. coated to zero porosity and then siliconized to give the fabric high resistance to the elements. Different cloth is used for the top, bottom and ribs due to their different functions. The lines are made of superaramid covered with a polyester sheath for protection against UV, wear and abrasion. The bottom section of the brake lines is made of polyester because of its better mechanical properties. The karabiners that attach the lines to the risers are made of stainless steel.
| | |
| --- | --- |
| Fabric | |
| Sail Cloth | 42 g/m2 "Zero Porosity" Ripstop Nylon |
| L/E Reinforcement | FLEXON® batten system |
| Warranty | 3 years / 250 Hours |
| | | | |
| --- | --- | --- | --- |
| | Material | Diameter [Ømm] | Strength [kg] |
| Top | Dyneema | 1.1 | 95 |
| Middle | Superaramide | 1.2/ 1.8 | 110/ 20 |
| Bottom | Superaramide | 1.8/ 1.9 | 220/ 320 |

OPTIONS AND ACCESSORIES

50011: Custom Colour
Would you like to personalize the look of your paraglider? All APCO gliders can be tailored to meet your color needs.


42477-42459: Glider Backpack or Light Clinch Bag
The wing is supplied in Paragliding bag as standard.
The Paragliding Bag can be replaced with Light Clinch bag for all wings on demand.


42460: Concertina Bag


Carabiners:

80025: Paramotor container (size L) for Mayday 16/18/20/Bi, 16/18/20LT, 20SLT, GMD/GMD SLT
The best made, best looking, universal emergency parachute container designed to fit most frames, offering easy operation, safe deployment and convenient location.


50012: Custom Logo
Customise your glider by adding a personal or company logo.


50013: Competition Lines
Some of our gliders are available with unsheathed competition lines. If you order a new glider, it is possible to ask for it to be factory rigged with comp lines instead of standard.

50024: Riser Sock
Riser sock supplied as standard with each wing.


The Thrust HP comes in an ergonomic rucksack incl. an inner stuff bag, compression strap, riser sock, spares kit, owner's manual and an industry first 3 yr/250 hr warranty - all as standard.