The time has come to make our tandem wing, the popular FUN 42 into to be even better, safer, more responsive and much more fun to fly - in a word FUN 42 MKII.

Over the last 2 years of service, we collected enough feedback on FUN 42 MKII to have a clear idea what should be improved to perfect our well liked tandem into a true best seller and champion of the skies.

The aim for this project was to update the launch and ground handling with significantly reduced brake pressure. Combined with highly refined, more precise, direct and immediate handling, while maintaining same or better performance than FUN 42 MKII

(Fun 42 is one of the best glide ratio tandem gliders around)

Judging by feedback, we have fully succeeded in achieving the goals of the project . The glider was thoroughly tested by professional tandem pilots in Oludeniz, Turky (world reknowned tandem site) and recieved thumbs up!!
FUN 42 MKII - Double Your Fun
DESIGN FEATURES
HIT valve®

equipped on L/E for rock solid stability find out more »
Imbedded top floor minimal drag ® Dyneema line with lifetime warranty (never needs replacing and adds a half point to L/D)
Diagonal rib structure
Split A riser with B stall power booster and trim tabs
All metal parts Stainless Steel or Aluminium
Advanced shape planform
Heavy duty Technora lines
Double coated siliconised cloth, covered by 3 Year / 250 Hour warranty
Brake handle with neodynium magnets and anti-twist swivel
Butt hole for easy cleaning
Crown shape tip reinforcement
New color designs
Improved, more responsive handling
Lighter, upgraded brake pressure
Reduced wing weight
Wider speed range (riser with large certified trim tab range)
Perfect launch with closed and open trims in any wind condition

TECHNICAL DATA
| | |
| --- | --- |
| | FUN 42 |
| Product Code | 19300 |
| Cells | 48 |
| Area [m2] | 42 |
| Area (projected) [m2] | 37.1 |
| Span [m] (incl. Stabiliser) | 15.1 |
| Span (projected) [m] | 12.55 |
| Aspect Ratio | 5.4 |
| Aspect Ratio (projected) | 4.2 |
| Take off Weight (all up) [kg] | 140-230 |
| Canopy Weight [kg] | 8.7 |
| Root Chord [m] | 3.38 |
| Tip Chord [m] | 0.67 |
| Length of Lines on B [m] | 9.4 |
| Total Length of Lines [m] | 465 |

CERTIFICATION
FUN 42 MKII successfully completed certification test flight for EN B Tandem rating with closed and open trimmers.
Flight test report - Trimmers closed, Click here
Flight test report - Trimmers opened, Click here
Load test, Click here
| | |
| --- | --- |
| Size | Certification Type |
| FUN FOR TWO (42) | EN. B |

PERFORMANCE
V-min @ optimum wing load
24 km/h
V-trim

@ optimum wing load

[km/h]
38-39 km/h
V-max

@ optimum wing load

[km/h]
47 km/h
Min Sink

@ optimum wing load

[m/s]
1.1 m/s

COLOR OPTIONS
FUN 42 is dressed in 4 all new, innovative color designs, following the latest trend in APCO.
On some of the wings the bottom surface produced from non-siliconised cloth to allow for advertising and logo application.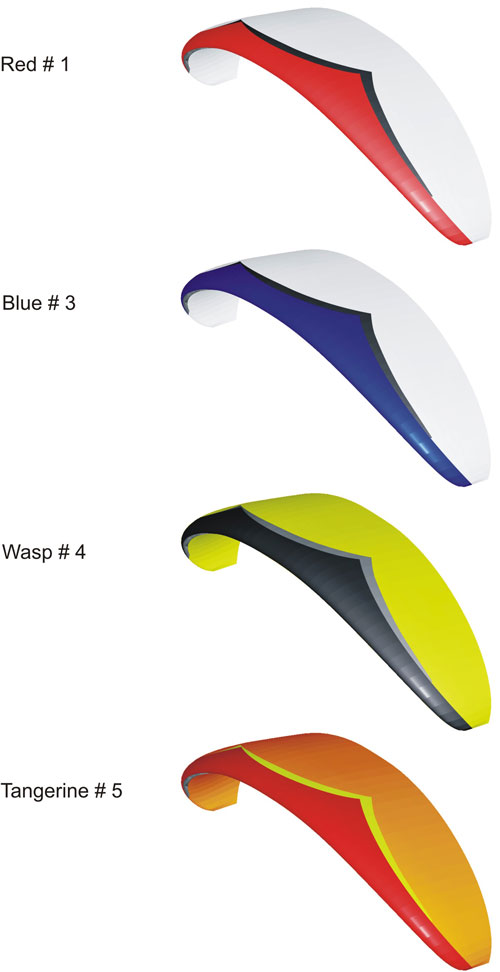 CONSTRUCTION AND MATERIALS
Materials
The wing uses the same cloth and lines with structure and design same as the Fun 42, so as to guarantee its integrity for entire expanded lifespan of the wing. Nevertheless we were able to reduce the weight of the wing by almost a half kilo thanks to advanced solutions applied. APCO is traditionally known for using materials and building techniques which offer double and triple lifespan over the expected (particularly important to professional tandem pilots)
The glider is made from tear resistant Ripstop Nylon cloth, which is P.U. coated to zero porosity and then siliconized to give the fabric high resistance to the elements. Different cloth is used for the top, bottom and ribs due to their different functions. The lines are made of superaramid covered with a polyester sheath for protection against UV, wear and abrasion. The bottom section of the brake lines is made of Dyneema because of its better mechanical properties. The Carabiners that attach the lines to the risers are made of stainless steel.


| | |
| --- | --- |
| Fabric | |
| Sail Cloth | 42 gr/m2 "Zero Porosity" Ripstop Nylon |
| Rib Reinforcement | 180 g/m2 Mylar (Trilam) |
| Warranty | 3 years / 250 Hours |
Material
Diameter [mm]
Strength [kg]
Top Floor
Dyneema
1.0mm
90kg x 2
St Top
Superaramide
1.2
120
Middle A1,3, B1,3
Superaramide
1.8
230
Middle A5, B5, C, D, St
Superaramide
1.5
150
Lower A;B
Superaramide
1.9
320
Lower C;D
Superaramide
1.8
230
Brake Cascades:
Upper
Dyneema
1.1
95
Lower
Dyneema
2.3
230

OPTIONS AND ACCESSORIES

57005: Tandem Spreader Bars
Redesigned Spreader bars to attach a second harness to your tandem paraglider incorporating An automatic B-stall mechanism integrated into the spreader bar


57010: Paramotor Tandem Spreader Bar
Paramotor specific Spreader Bar with wide spread to accommodate use with motor. It has multiple attachment points for easy balancing of the passenger in relation to the pilot.


50011: Custom Colour
Would you like to personalize the look of your paraglider? All APCO gliders can be tailored to meet your color needs.


42477-42459: Glider Backpack or Light Clinch Bag
The wing is supplied in Paragliding bag as standard.
The Paragliding Bag can be replaced with Light Clinch bag for all wings on demand.


Carabiners:

50012: Custom Logo
Customise your glider by adding a personal or company logo.


50013: Competition Lines
Some of our gliders are available with unsheathed competition lines. If you order a new glider, it is possible to ask for it to be factory rigged with comp lines instead of standard.

50024: Riser Sock
Riser sock supplied as standard with each wing.


The Fun42 comes in an ergonomic rucksack incl. an inner stuff bag, compression strap, riser sock, spares kit, owner's manual and an industry first 3 yr/250 hr warranty - all as standard.