LIFT PPC is by far the best PPC wing out there in terms of speed, glide and fuel efficiency. It is an elliptical reflex design, aerodynamically superior to all other options currently on the market.

Designed for experienced pilots, it delivers more in all aspects of flight - the ultimate choice for performance, speed, fun and safety.
With the all new LIFT II we have pushed the limits one step further.

The LIFT II is a bold and iconic design, building on the pioneering values of LIFT previous generation.

LIFT II PPC offers several dramatic improvements over any other type of PPC wing such as better handling and maneuverability which puts this wing at a new level of fun flying. The efficiency of the reflex profile allows better climbing rate, improved fuel consumption and higher top speed.

APCO has always spearheaded the development of safety in flying technologies. Benefitting from our lead in the competitive PPG world, the new LIFT II is now fitted with the break through APCO HIT valves.

The reflex profile used in the LIFT II is characterized by a strongly positive pitching coefficient. This point translate to a highly safe canopy that allows reaching higher speeds while improving the safety which is now better than ever before.

LIFT II is offered in 3 exciting new colors, taking APCO color design to the next level. The bottom surface is all White allowing the pilot to see the reflection of the top from under the wing and if needed apply commercial logo.
LIFT II - Enjoy the flying precision and world class APCO refinement in a beautifully balanced flying machine!


DESIGN FEATURES
Auto stable reflex profile for unprecedented stability and improved efficiency
High cruising speed due to the advanced reflex profile
APCO unique

HIT valve®

equipped for added safety in turbulent air - more »
Leading edge

Flexon®

batten equipped (pioneered by APCO) replacing mylar stiffeners (maintenance free, ever-lasting solution ensuring stable performance) - more »
Moderate A/R elliptical wing concept for performance unseen in the trade
Fool proof launch and landing - on a par or better than the best launching PPC wing - straightforward launch
Performance - L/D never seen before, twice as good compared to common PPC wings translating to improved climb rate and fuel efficiency.
Safety as good or better than any rectangular wing
Turning ability and handling - agile and precise - unheard of when compared to regular PPC wing
Steering forces - light and comfortable - you will not have shaky weak knees even after long flights
Off power/full power - no or very low torque effect
Butt hole on tips of trailing edge for debris cleaning
LIFT II PPC - Master the Skies !!
TECHNICAL DATA
400
450
Product Codes
11700
11750
Cells
40
42
Area [m2]
39 (420 sq. ft.)
42 (450 sq. ft.)
Area (projected) [m2]
34.5
37.2
Span [m]
13.8
14.6
Span (projected) [m]
11.52
12.2
Aspect Ratio
4.86
5.08
Aspect Ratio (projected)
3.83
4.00
Min. Gross Weight* [kg]
200
250
Opt. Gross Weight* [kg]
300
350
Max. Gross Weight* [kg]
400
450
Total Lift Capacity [lbs]
1000
1100
Load Test: Max Load# [lbs]
5500
5500
Canopy Weight [kg]
8.5
9.3

Root Chord [m]

3.4
3.4

Tip Chord [m]

0.6

0.6

Length of Lines on B [m]

7.32
7.74
Total length of line used [m]
474
490
Riser specification
Click here for hook-up points spread distance
Warning: any different setup is outside this frame of certification for the wing
*
Gross Weight: includes weight of the Pilot, Fuel, Canopy, Frame and Accessories
#
Maximum Load tested
without
structural damage (pending)

CERTIFICATION
LIFT PPC load test to 2,500kg. Applied for Sport Pilot license certification.
Please Note:
The Lift PPC is designed for American style trikes,
with wide spread between hook in points 140-160cm.

PERFORMANCE
| | |
| --- | --- |
| V-min [km/h] | 25 |
| V-Cruise [km/h] | 50-57 |
| Min Sink (Opt loading) [m/s] | 1.4-1.5 |

COLOR OPTIONS
| | |
| --- | --- |
| Option Number | Color Design |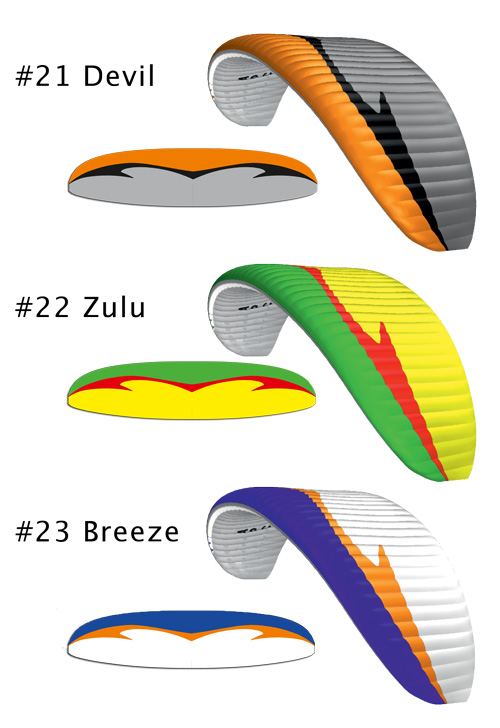 ---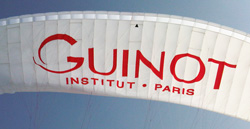 Custom Colors are available for all the APCO Power Wings. Standard colors (below) are available on shorter delivery times. To find out more about ordering a custom designed parachute, please refer to our
Custom Color
form.
Advertising and Sponsors Logo's can be added to customize your wing as desired.

CONSTRUCTION AND MATERIALS
| | |
| --- | --- |
| Fabric | |
| Sail Cloth | 42 g/m2 "Zero Porosity" Ripstop Nylon |
| Rib Reinforcement | FLEXON® batten system |
| Warranty | 3 years / 250 Hours (subject to the stated conditions) |
| | | | |
| --- | --- | --- | --- |
| | Material | Diameter [mm] | Strength [kg] |
| Top ; st top | Super Aramid | 1.5 | 150 |
| Mid; st bottom | Super Aramid | 1.8 | 230 |
| Bottom | Super Aramid | 3.0 | 450 |
| Brake top; safety BR | Super Aramid | 1.5 | 150 |
| Brake Bottom | Polyester | 5.0 | 450 |

OPTIONS AND ACCESSORIES

70845: Bag for Power Wing
Robust carry bag, to easily store your Power Wing, standard with every new Power Wing

70840: Line Sleeves (12 feet)

43122F: Maillon no.6 - Zink plated Steel - Certified
breaking load of 2000[Kg]

43123F: Maillon no.8 - Zink plated Steel - Certified
breaking load of 3500[Kg]

43126F: #6 Delta Maillon Stainless Steel – Zink plated Steel - Certified
breaking load of 1250[Kg]
Quick link #6 safety instruction:
Tightening torque of nut:
1.20 [NM] - Secure the nut with a drop of "Loctite" glue


70842: Webbing Risers R/L - Standard riser Left and Right
(other design customized risers possible when ordered in bulk)

50011: Custom Colour
Would you like to personalize the look of your paraglider? All APCO gliders can be tailored to meet your color needs.


50012: Custom Logo
Customise your glider by adding a personal or company logo.


62100: Wind Sock
Size: D-25cm x L-120cm
Available in Various Colors,
Material: Nylon

62122: Wind Sock
Size: D-50cm x L-215cm
Available in Various Colors,
Material: Nylon