Universal Paramotor Harness
We at APCO long ago recognised the need for a specialised paramotor harness which could be used by paramotor enthusiasts worldwide and be compatible with a wide number of different paramotor frames.

Finally, we are launching a new product - Universal Paramotor Harness - which is a great improvement over our former paramotor harness.

Above all we took care so the harness has all necessary provision to be adapted to virtually any paramotor frame on the market - both for low and high hook in points.
Then we made sure that the harness was even more comfortable with longer and generously padded shoulder straps. Side pockets were added and the harness was made to be universal - one size fits all with zipper expander (zipper closed S/M size, zipper open L/XL size).



DESIGN FEATURES
Will fit most frames - high and low hook up points
Quick-lock buckle system
Adjustable seat angle - adjustable during flight
Shoulder adjustment
Emergency parachute connection / frame connection loops
Alternative frame connection loops
Frame connection straps
Two high connection hook in points (fixed)
Velcro loops for guiding bridle of emergency parachute
Long extended extra padded shoulders
Low hook in points with security backup
Size expander zipper
Weight: 2.7 Kg
Customizing Universal Paramotor Harness design
CUSTOMIZE HARNESS BACKPLATE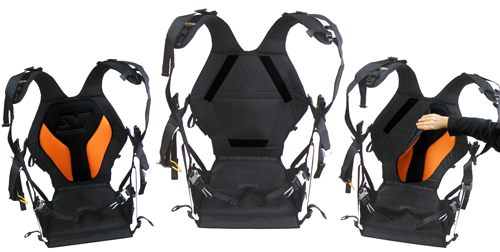 Universal Paramotor harness with customized backplate
Universal Paramotor harness
with Velcro strips ready for customized backplate
Applying customized backplate
Choose your custom version
From now on Universal harness delivered as standard prepared to accept customized padded and/or airmeshed backplate.
Additional Velcro strip sewn into the back of the harness designed to accept various backplates. Different optional standard design backplates available. They couple with the harness by simple strip of Velcro. The backplate can be easily peeled off or stuck on again. If dirty, can wash separately. If you are tired of it, can be replaced, or switched to match your wing. The backplate is not only attractive, but also cushions your back for extra comfort. You will definitely notice the difference in comfort.

Extremely light - only 170 - 190 gr.



Custom backplates available for bulk orders -
contact us
for more information

PILOT PROTECTION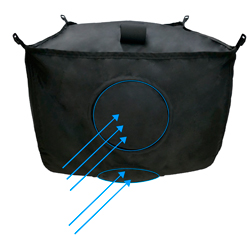 APCO sells various sizes of it's world famous MayDay parachute, compatible with the Paramotor container or the front mounted container and with the specifically designed Emergency parachute compartment which can be Zipped on and off either side of the harness and is interchangeable with a zipped on Pocket.

Optional Airbag will provide additional protection in case of impact with the ground.
More information is available in the accessories section

COLOR OPTIONS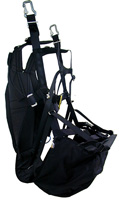 The paramotor harness is available in one standard color - All Black - body and webbing.

PRODUCT CODES
The paramotor harness is available in "one size fits all" - with zipper expander
(zipper closed S/M size, zipper open L/XL size)
41015

– UNIVERSAL PARAMOTOR HARNESS
410151

– Backplate #1 Orange

410152

– Backplate #2 Black

410153

– Backplate #3 Red

410154

– Backplate #4 Orange

410156

– Backplate #6 Orange

OPTIONS AND ACCESSORIES
sold separately

80046: Universal Airbag
Self-inflatable and superlight, adds substantial additional protection in the case of an accident.


80029: Zipped on Emergency Parachute compartment for SLT universal harness
Will fit Any Apco Mayday, from 16 SLT up to Mayday 20 standard version. Big deployment handle and comfortable side location of the Mayday for maximum ease of use!

80035: Side pocket zipped on
The same pocket can be used to be zipped onto either side, depending on pilot preference.


80031: Paramotor Harness Mirror Kit


Carabiners for harnesses:

42024: Universal harness Bridle

Built from 20mm. soft touch Polyester webbing - 2,200 [kg] MBL
Allows connection to the Mayday with no metal links.
(sold per piece)


43107B: Air Extreme Ball bearing Pulleys
Pulley with stainless steel ball bearings, allowing the lowest possible friction - big improvement when used for Speed system on the glider and/or harness.


80026: Paramotor container (size S) for Mayday 16SLT and 18SLT
The best made, best looking, universal emergency parachute container designed to fit most frames, offering easy operation, safe deployment and convenient location.


80025: Paramotor container (size L) for Mayday 16/18/20/Bi, 16/18/20LT, 20SLT, GMD/GMD SLT
The best made, best looking, universal emergency parachute container designed to fit most frames, offering easy operation, safe deployment and convenient location.


81155SLT: External Container for Mayday LT and SLT

80053: Flight Panel (Deck) - Top part
3 parts inovative cockpit from APCO


80054: Bottom Emergency parachute Front container - flight deck compatible
zipped on emergency parachute container


80052: Bottom Ballast Bag - flight deck compatible, zipped on!
Designed to hold APCO's 9L Liquipak inner ballast bag.
(ordered separately :: code:21000)


44003: Radio Pocket one size
Convenient and safe casing for your radio
Dimensions: 170 x 60 x 30 mm

80015: Mayday Front Container