Mayday 28 UL
Apco Aviation started manufacturing the Mayday in 1984, and since then put over 30 000 pieces into service in the Paragliding and Hang Gliding markets. The Mayday has hundreds of life saving deployments to its name, from beginners to world champions
(
Read letters from saved pilots
).
Now we are proud to introduce the MAYDAY 28 UL, a new pioneering emergency parachute, specially designed for trikes - single and tandem.
Mayday 28 UL capable of safely handling loads of up to 400kg. Formally load tested by EN approved laboratory - Air Turquoise - confirming safe opening and descent with maximum load of 340 kg. Tests were carried out at opening speed of 40m./sec. as per standard EN requirements for emergency parachutes.
For test results,
click here (.pdf)
MATERIALS & CONSTRUCTION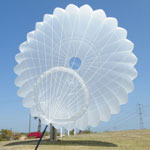 Mayday 28 UL - Completely new emergency parachute but incorporating classical principles of APCO's Mayday designs Equipped with special slider for reduced opening shock (unique in the world of paragliding)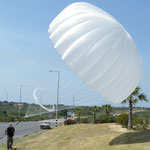 The rest of the design and construction techniques have remained the same - there is not much to improve on a winning design and best seller as Mayday, even though it is continuously perfected and polished, insuring that it is updated on even the smallest details. All of the Mayday parachutes are "Flat Circular Pulled Down Apex" in design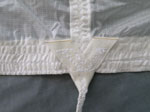 The Mayday UL boasts superior construction and materials. The canopy cloth is F111 "zero porosity" ripstop nylon. The skirt and apex skirt is reinforced with 1'mil spec nylon tape, neatly wrapped and stiched with a precision four-needle machine. The line attachments have V-Tab reinforcements, sewn in place with a computerized machine, ensuring consistantly high quality and strength.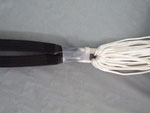 The Bridle is made from 2 x 2,400[kg] Webbing (UV Resistant) and is designed to fit quite a few trikes - e.g. Fly Products trike.
Bridle is a separate item - not supplied as standard with Mayday 28 UL and not included in the price. Needs to be ordered separately.
Custom made bridles can be ordered too.

CONSTRUCTION DETAILS
Typical APCO construction incorporating standard parachute manufacturing and materials
Apex lines
180kg nylon 6.6 line
Apex reinforcement tape
Mil T 5038-3 1" or similar

Gore reinforcement tap

Mil T 5038-3 5/8" or similar

Gore fabric

F111 or equal

Skirt reinforcement tape

Mil T 5038-3 1" or similar

V-Tabs

Mil W 4088-1 9/16" or similar

Suspension lines

180 kg. Nylon 6.6
Bridle webbing*
2 x 2,400 kg. UV Treated 1"
* Bridle is a separate item - not supplied as standard with Mayday 28 UL and not included in the price. Needs to be ordered separately.

SPECIFICATIONS
MAYDAY 28 UL
Gores
28
Area [m2]
64

Weight [kg]

4 (canopy only)

Sink Rate [m/s]

6.3 (at max load)

Max Load [kg]

340

Maximum Deployment speed

140 km/h.

Riser

2 x 2,400 kg. standard double universal bridle

Nominal diameter [m]

8.6m.

Certification

EN load and drop test

OPTIONS AND ACCESSORIES
42005: Standard double universal bridle for MD 28 UL
(set of 2 bridles - to be ordered separately)

80028: Paramotor container (size XL) for Mayday 28 UL.
The best made, best looking, universal emergency parachute container designed to fit most frames, offering easy operation, safe deployment and convenient location.


80020: Mayday Repacking charge

43003: Rubber Packing Loop