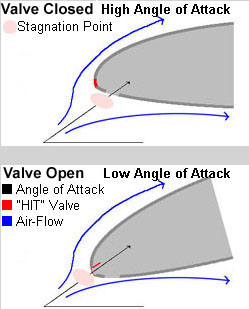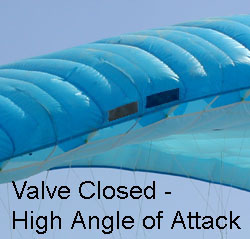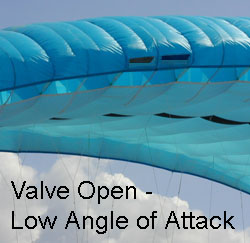 "HIT Valves" (High-Speed Intake Valves - pat. pending)) increase the internal pressure of the wing both during accelerated flight and in extreme situations, dramatically improving safety and performance.


"How it Works": The Standard leading edge intakes on a paraglider are placed on the stagnation point of the profile at trim speed. This ensures maximum internal pressure of the canopy for this angle of attack.


Once you accelerate, the wing is flying at a lower angle of attack, and therefore the stagnation point moves higher on the nose of the profile. The "HIT Valve", placed above the leading edge openings, opens automatically when the stagnation point moves over the valves, pressurizing the wing. Only a few valves are necessary over the span of the leading edge to pressurize the entire wing at higher speeds.


The Valves are kept closed at trim speed by the internal pressure of the wing.


Flexon Leading Edge Battens (pat. pending) support the top and bottom surface leading-edge fabric between the ribs keeping the profile clean and the intakes open. This feature dramatically improves the performance of the wing, especially at high speeds.


The Battens also improve inflation of the wing both during launch and re-inflation in flight.