The Fiesta is designed to be a backbone of our range for 2000 and beyond. Great attention was paid to ensure that the glider will be successful and liked by you, the pilots.

The glider is availlable in 4 sizes: Extra Small, Small, Medium and Large, covering weight range from 60-120 kg (total take-off weight).

The 3 main sizes Small, Medium and Large are certified DHV 1 Trim and Accelarated and ACPULS certification in Standard Class was completed for all four sizes. There is no difference between the ACPUL and DHV version, glider and line measurements are the same.

We believe that Fiesta represents a major step and a corner stone in APCO's history and hopefully in the development of paragliding in general.

Our development team had a very ambitious task to achieve in designing the Fiesta. The idea was to release a glider with performance and handling which would be better than any other glider on the market in its Class, fulfilling the expectations of the most ambitious intermediate pilot, but with great emphasis on safety and user-friendly behavior. Safety was of paramount importance and we had no intention of compromising on it in any way whatsoever.

APCO is proud to report that we fully achieved the aims of this project and trust that you, the pilot will agree with us after flying the glider. It simply is the safest glider on the hill, designed to make you feel good about flying, without any scary moments. It is also unique in that it received full DHV 1 in all 3 sizes, also on the top speed end. It received very good marks from the DHV test pilots. The exact same version was confirmed by AFNOR/CEN certification in Standard Class.

Fiesta will replaced Santana and Santana production was ceased. Fiesta's performance and handling exceeds that of Santana and safety is of course the highest possible, leaving no place for similar gliders on the market. It truly is a glider, which offers a level of performance expected from DHV 1-2, and better gliders, combined with the most stringent safety requirements.

The workmanship and materials are as usual of the best possible standard and quality. No compromises were made on our usual blend of materials.
Sailcloth - double coated siliconised Gelvenor.
Lines - Superaramid from Cousin

This guarantees long-lasting service and an even performance of the glider under the most difficult conditions of use, in schools and by professional pilots for many years of flying. We stand firmly behind our legendary warranty - 250 hours/3 years, but have no worries, as you will not need to claim your warranty. Reports from various schools and pilots confirm that even 5 years of daily intensive use in schools and 600-700 hours flying time by professional pilots have not destroyed our gliders and they are reported to be as good as new.

All this adds up to value for money, which is really appreciated when you see that our gliders fly for such a long time without need of replacement.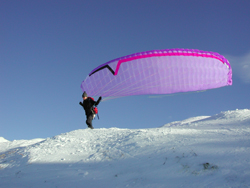 Fiesta Light - Mountain/Biouvac Version:

We have available a mountaineering/hiking version of the Fiesta in Small and Medium sizes. This is a very light, compact version of Fiesta, made from special cloth and lines to make it suitable for hiking, trekking and biouvacing. Manufacturing technique and materials are specially adapted to make it exceedingly light, but without sacrificing any of the good nature and excellent performance of the regular Fiesta.

Technical data and specs are basically the same, except that the cloth, lines and risers are of lighter materials, enabling the glider's weight to be well below 5 kg. (4-4.5 kg for Small and Medium size). We are accepting orders now.

Fiesta Paramotor Version:

All 4 sizes of Fiesta - XSmall, Small, Medium and Large is available in a specially adapted version of the Fiesta for use with paramotor.

Extensive testing of Fiesta in paramotor flying confirmed that it is a wing exceptionally well suited to paramotor flying. This is due to a super easy launch with no bad tendencies; even, smooth with no overshooting. Safety, handling and performance make it a natural choice for paramotor. It is also very tolerant to the engine's P-factor, making the left-hand pull very light.

Size L and Tandem available with DUVL Certification.

Fiesta Tandem:

The Fiesta Tandem is available with DHV and DUVL Certification. This glider is especially designed to meet the needs of the professional tandem pilot market. Any pilot looking for a wing which is safe, very easy to fly and can fulfill the requirements of professionals offering tandem rides and with the need to make a quick turn around with their passengers - need look no further!

It is designed to have a very competitive price tag, making it affordable for tandem pilots.

Fiesta Tandem will not replace Futura Tandem, which will continue to be offered to free-flying pilots looking for performance and fun and wishing to take a ride with their friend.

As you can see Fiesta is offered in many different types and sizes and we hope that they will all be equally enjoyable and attractive to the flying community.